American semiconductor specialist Qualcomm has finally revealed specifications of its long-anticipated server CPU based on ARM architecture.
Centriq 2400 features up to 64 cores, not 24 cores as we reported earlier, and is the first server chip to be based on 10nm process - enabling it to pack more transistors per die.
The silicon is sampling with select customers ahead of general release in the second half of 2017.
Qualcomm hopes the Centriq family will empower the company to break Intel's monopoly in the data center and make ARM a viable choice for high-end compute servers.
"The Qualcomm Centriq 2400 series processors will drive high performance, power efficient ARM-based servers from concept to reality," said Anand Chandrasekher, SVP and GM for Qualcomm Datacenter Technologies.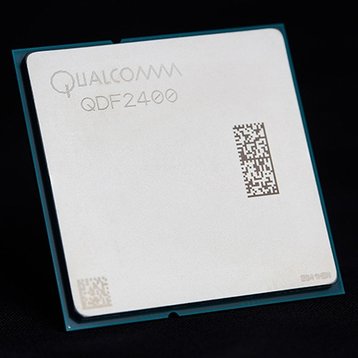 It's been a while
Processors based on ARM architecture consume less power and require less cooling than their x86 counterparts. They are cheaper to operate and offer different performance characteristics – a typical ARM SoC includes more cores clocked at lower rates than a typical server CPU from Intel.
Qualcomm's ARM-based chipsets power many of the top-tier smartphones and tablets on the market today, but the company took its time with entering the server market.
Since 2014, Qualcomm has been issuing regular updates on the development process, but the name 'Centriq' only emerged in February 2016.
The first entry in this new family, Centriq 2400, features up to 48 custom Falkor cores per die, fully compliant with the ARMv8 architecture.
"Qualcomm requires the leading edge of integrated circuit technology to deliver high performance at low power for the newest premium smartphones. We are first in 10nm IC technology for mobile, and leveraging our expertise in ARM processors and system on chip design, we are the first with our Qualcomm Centriq family of server processors to bring the leading edge to the datacenter," Chandrasekher added.
As part of the announcement, Qualcomm demonstrated Apache Spark and Hadoop on Linux and Java running on a Qualcomm Centriq 2400 machine.
The company has made a late entry into a crowded market, where it will have to compete not just against Intel and AMD, but also a new generation of ARM-based silicon vendors like Cavium and Applied Micro. IBM's alternative Power architecture is also gaining popularity, ever since the company decided to open-source its chip designs.