American wholesale data center company QTS Realty Trust is eying up a huge stretch of land in Loudoun, Northern Virginia, the Washington Business Journal reports.
Sources familiar with the deal told the publication that the $80 million acquisition of nearly 281 acres of land was expected to close later this month.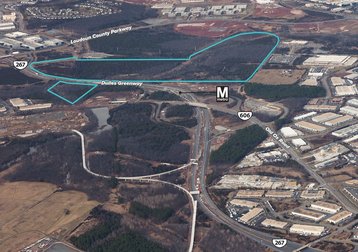 The data center capital
The land is set near the Silver Line's planned Loudoun Gateway Station, where the Dulles Greenway meets Old Ox Road, and is being marketed as Washington Dulles Gateway.
QTS already operates data centers in nearby Dulles and Ashburn, with Northern Virginia remaining the largest data center market in the US. Most recently, Vantage announced plans for a $1 billion data center campus set on 42 acres of land in Ashburn.
But not all of QTS' 281 acres may end up as a data center campus - Loudoun County Supervisor Ron Meyer told the Washington Business Journal that he believed that at least some of the site that is closest to the Loudoun Gateway Station should be set aside for projects that would benefit local residents or commuters.
"Certainly the highest and best use within a half-mile we don't believe to be a data center," he said. "Our county will be doing everything we can to ensure the area within a half-mile of a Metro station will be preserved for the highest and best use."
He believed the buyers were aware of this issue, and were open to finding a compromise that could include a mixed-use development closer to Metro.
The land is being marketed by real estate services firm JLL, on behalf of the property's majority owner, developer H. Christopher Antigone.
Antigone had originally planned to turn the land into an 'International City,' with more than 4,000 hotel rooms, a major convention center, an entertainment district, trophy office towers and cultural amenities.
But the land was turned over to JLL to be sold after Antigone's efforts fell apart, with his partners taking legal action and causing Antigone to be expelled from the partnership.