All-flash storage array specialist Pure has made a number of updates to its FlashBlade platform, increasing the maximum 'raw' capacity supported by a single system to almost four Petabytes. That's five times more capacity than was previously possible with a Pure array.
Along with a capacity increase, larger systems also offer more performance, since it scales almost linearly. The company has also introduced a new blade with 17TB of flash memory on board, occupying the middle ground between previously available 8TB and 52TB modules.
"Modern computing frameworks have given rise to increasingly complex, high-performance analytics and valuable data," said Par Botes, VP of FlashBlade at Pure Storage.
"With FlashBlade, our mission is to make big data into fast data with an all-flash platform that is big, fast, and simple to deploy – and one that provides value across all industries and segments."
The announcements were made at the Pure Accelerate conference in San Francisco.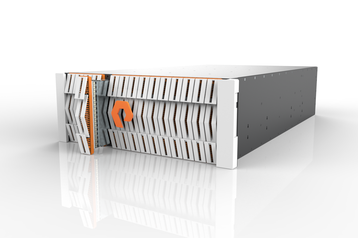 Blade runners
Pure Storage was established in 2009 to transform consumer-grade flash memory into affordable enterprise-ready solutions. Even though it sells hardware appliances, all of the company's intellectual property is actually in software and data reduction algorithms.
It was these algorithms that enabled Pure to become one of the first storage vendors to offer 'flash at the price of disk' – the claim was based on high levels of data reduction and compression.
FlashBlade was launched in March 2016 to offer high-density flash storage, using a proprietary form-factor. Now, the platform can support even more flash, with up to 75 blades, or five full chassis, linked into a single system using a proprietary networking module.
This enables FlashBlade to offer almost 4PB of 'raw' capacity and up to 8PB of 'effective' capacity – once compression and deduplication technologies have been applied.
"FlashBlade was built with dense capacity and high performance in mind from day one, but until now, the largest single system available was just short of 800TB raw. Now, we have the option to increase capacity as much as five-fold to create one system that communicates and integrates seamlessly," said Jim Dolan, global manager for HPC at ION.
"What's truly eye-opening is the potential for performance gains across a scaled system – we don't just expect FlashBlade to get five times bigger, but five times faster, too. In data-intensive, performance-driven industries like oil and gas, there is an increased demand for ever-improving imaging processes. FlashBlade at greater scale will enable shorter delivery time, increased resource productivity and add direct business value."
Along with the new 17TB blades, the company has introduced support for SMB v2.1 protocol and IPv6 addresses for data and management. It has also unveiled a fast, all-flash S3 object store to unlock additional use cases in media, healthcare and advanced analytics.
And finally, Pure has announced beta availability of snapshots, with expected general availability in summer 2017.