UK royalty has visited a data center construction site to discuss mental health in the construction industry.
Last week construction firm Mace and Mates in Mind announced Prince William had visited a Mace construction site in London to discuss the prevalence of suicide in construction.
According to the Mirror, the visit was to a Microsoft data center construction project in North Acton, west London.
According to Mace and MiM – a mental wellbeing charity focused on the construction sector – construction worker suicide in the country are rates nearly four times higher than the national average – suicide is the largest cause of death for men under the age of 35 in the UK.
William's visit included a roundtable with people from across the construction industry who shared their personal experiences as well as efforts to help workers. The UK tabloid described the prince as "visibly moved" by the discussions.
According to the company's community project page, Microsoft first gained planning permission for its North Acton data center in 2020 in partnership with Goodman.
The companies began construction, with Mace as the general contractor, earlier in 2023. Construction is set to take 24 months. Specifications of the project have not been shared.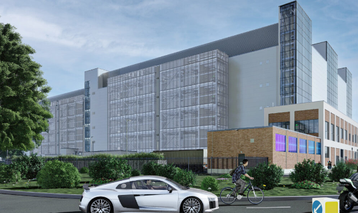 Mike Barford, project director at Mace, said: "The culture around mental health and wellbeing in our industry is improving, but far too slowly – and we know if we want to make a real difference, we need genuine cultural change. I hope that moments like this one can help to drive that shift in attitudes."
Sarah Meek, managing director at Mates in Mind, added: "As a charity, we aim to ensure that no one experiences mental ill-health through their work. Therefore, it was a wonderful opportunity during this visit to be able to raise awareness of mental health, to start conversations about the issues and contributory factors faced at all levels within construction, the impact that arises, and continue eradicating the stigma of mental ill-health and the barriers that surround it."
If you are struggling with mental health, you can call the National Suicide Prevention Helpline UK on 0800 689 5652 or Samaritans on 116 123.