Singapore-based SpaceDC, formerly known as Polymer Connected, has given more details of its plan to build a green data center campus in Indonesia, powered by natural gas and reclaiming waste heat from its generators.
The site will consist of two data centers, with the first facility scheduled to go operational as early as next year, the company said at a special media session today, on day one this year's DCD>Southeast Asia conference held at the Sands Expo & Convention Centre in Singapore.
Green campus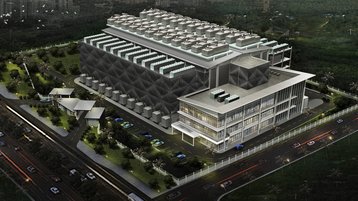 Backed by sovereign wealth fund GIC, SpaceDC was first reported in June to have acquired land for its data center campus.
Located in Jakarta Barat, the 1.8-hectare campus will house two data centers. JAK2 will be built first: a single-story 2.6MW data center with a two-story administrative building, expected to be operational in Q1 2020. JAK1 is a 24MW four story data center with a three-story administrative building, due to be completed by mid-2021.
Rather than tap Jakarta's unreliable power grid – Indonesia currently has insufficient electrical generation capacity – the data center campus will sport onsite natural gas generators to produce its own electricity for added resilience. Power backup will be provided by uninterrupted power supply (UPS) and diesel generators with adequate fuel storage for at least 24 hours of operations under full load.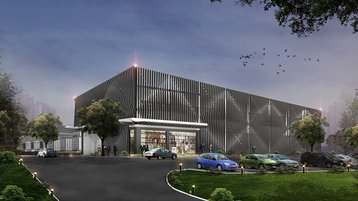 What makes the Jakarta Barat campus stands out is its ability to recycle waste heat from the gas generators. Liquid natural gas (LNG) must be converted back to a gaseous state through a process known as regasification before it can be used. SpaceDC says the coenergy produced will be used to provide cooling through absorption chillers; it says this energy saving feature is unique for a Southeast Asia data center.
"Lowering the environmental impact of data centers is at the heart of SpaceDC's company philosophy. When selecting a site, we always look for innovative ways to use local natural resources to create green energy and reduce our carbon footprint," says Darren Hawkins, CEO of SpaceDC.
The location at Jakarta Barat is also strategically situated to tap both Jakarta's natural gas pipelines and ISP cables. There are two natural gas pipelines running alongside the site, which Hawkins says offers redundancy in the event of a fault with one.