Real estate specialist Point One Developments has applied for permission to build a large data center campus northeast of Remington in Fauquier County, Virginia.
In its application, the firm said it wanted to build up to six data centers, spending $1.4 to $1.6 billion, with a plan to lease the space to large Internet or cloud companies.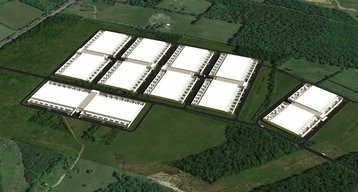 Still early days
"The conceptual plan for the site includes six data center buildings, built one at a time, each ranging from 240,000 sq ft to 310,000 sq ft. The complete build-out square footage of all buildings in Remington Technology Park is estimated to range between 1.5 - 1.8 million sq ft," a January 2017 application document, first discovered by Fauquier Now, stated.
"Each building would consist of approximately 200,000 sq ft of data hall space and the remaining square footage would be allocated to support office, circulation, loading and equipment areas. The total construction value of the first building on site is estimated to be between $250 - $270 million USD.
"Subject to market conditions, we estimate the development will take between 5 and 7 years to complete."
The company notes that it was drawn to the area for several reasons:
A location within the State of Virginia and within a one-hour drive from the Dulles Airport area
Access to redundant high capacity and high voltage electricity
Proximity to current and future redundant fiber optic connectivity
Infrastructure to service the lands including water and sewer
Access to existing improved roadways leading directly to Route 15/29
Proximity to a major solar power generation facility
A large enough site to accommodate 300MW of connected electrical load (>200 Acres)
In a January 2018 document, the company sought rezoning of the land from the Rural Agricultural (RA) and Residential (R-1) zones to a Business Park (BP) zone.
The county's board of supervisors will conduct a work session on the proposal on February 8, followed by a similar session by the county commission on February 15.
A public hearing for the proposal will then take place on February 27, ahead of another public hearing by the board of supervisors in early March. The supervisors then have the authority to make a final decision.