Data center and cloud provider Peak 10 has opened a new data center in Raleigh, North Carolina. The new facility is its 27th overall and its third in the state capital. 
The new data center is next to Peak 10's  two existing Raleigh data centers and adds 17,000 sq ft (1580 sq m) of raised floor data enter space to the existing 28,000 sq ft (2600 sq m) of raised floor space split in those two facilities. The new building also adds 66,000 sq ft (6100 sq m) of office and customer support space including a new technical assistance center featuring a dedicated disaster recovery workspace. The new facility offers the largest raised floor space in Peak 10's Raleigh buildings.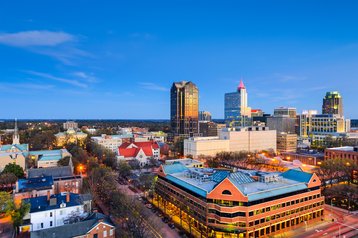 Pre-leased space
Much of the new space is alreay pre-leased, but Peak 10 won't say to whom. The first customers are already installing  their dedicated IT workload equipment, the provider says. 
The new facility offers 8.5MW of generating capacity to support redundant power backup, and a redundant network infrastructure. Multiple Tier 1 connectiivity providers are supported with carrier loop access directly to AT&T, Level 3, Time Warner Cable, and Verizon. Complete details on the new facility are available here. 
Along with sites in Raleigh and its headquarters in Charlotte, NC, Peak 10 operates facilities in Jacksonville, Tampa, and the Miami/Fort Lauderdale area in Florida, Atlanta, Georgia, Louisville, Kentucky, Nashville, Tennessee, Cincinnati, Ohio, and Richmond, Virginia.