The State Bank of Pakistan has opened a new data center to monitor money transfers in an effort to crack down on money laundering and the financing of terrorism.
Located at the Financial Monitoring Unit (FMU) in Karachi, the facility is part funded by the UK and the United Nations, and plans to use software developed by the UN's Office on Drugs and Crime (UNODC).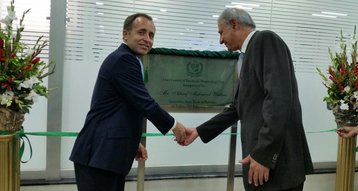 Keeping Pakistan clean of laundering
"Today will be recorded and remembered as another meaningful day for the people of Pakistan in making one more step forward towards combating corruption and building a society in which suspicious financial transactions and financing of terrorism are monitored, deterred and prevented," Cesar Guedes, UNODC country representative, said.
UK High Commissioner Tom Drew added that the data center would increase confidence in Pakistan's financial transaction system, something he said would increase business opportunities for the nation.
Talking to local publication Dawn, director of the State Bank of Pakistan Abid Qamar said that the bank "will have sufficient data in terms of the number of suspicious transactions and convictions in due course."
Work at the FMU was previously done manually, which was a laborious and time-consuming task. The plan is for the process to eventually run on goAML, an intelligence analysis system built by UNODC, and partially funded by the European Commission.
The data center is not the first in Pakistan aimed at dealing with corruption - late last year, the province of Punjab opened a Tier III facility to tackle land corruption, with World Bank funds.