European telco Orange has installed more than 200 solar panels on its data center in Timișoara, Romania.
The company this week said the deployment will generate around 100kW of power, covering around 80 percent of the data center's power needs.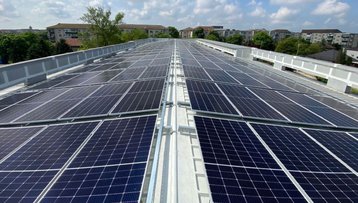 The telco said the deployment follows solar panel roll-outs at facilities in Constanta (November 2022) and Brașov (May 2023). In total, the company has around 650 solar panels installed and operational at its data centers in the country.
"As the leader of the telecommunications market in Romania, we recognize the urgent need to be much more attentive to the impact we have on the environment, which requires collective action from all sectors of society. We invest in network infrastructure to offer our customers the best connectivity experience and the fastest fixed and mobile 5G+ networks nationwide, but also in solutions to make our consumption more responsible," said Marius Maican, technology director.
Orange has committed to achieving carbon neutrality by 2040. Orange Romania also has 133 telecommunications sites equipped with solar panels, again able to cover around 80 percent of the sites' consumption.
The company aims to deploy solar at 300 telecoms sites by 2024 and four data centers by 2026. Its data centers will also see compressor-type cooling installations in the technical rooms of the data centers with free-cooling-type installations.
In Europe, the company has deployed solar panels at two data centers in Poland in Łódź and Warsaw; and at its Bercenay-en-Othe teleport in France. In Africa, Orange is deploying solar at data centers in the Ivory Coast – in Yamoussoukro and Grand Bassam – and Burkina Faso in Ouagadougou.