The Federal Claims Court dismissed Oracle's legal challenge against the US Department of Defense's massive single-provider cloud contract.
JEDI, a contract that could last 10 years and be worth as much as $10bn, is now set to go to either Amazon Web Services or Microsoft Azure, with the winner expected to be announced this August.
"For AWS, there are no consequences"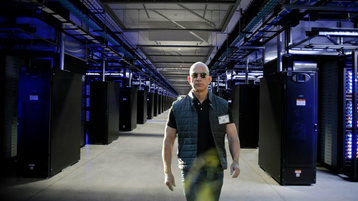 Oracle claimed that Amazon dangled lucrative job offers in front of two Pentagon officials involved with the JEDI process.
One, Deap Ubhi, previously worked for Amazon and then spent 18 months at the US Digital Service (USDS) before returning to AWS. It is alleged that during his year-and-a-half stint he engaged in "highly technical" discussions with potential JEDI competitors and had access to a drive with information on the procurement.
Meanwhile, Oracle claimed that Anthony DeMartino, the chief of staff for the deputy secretary of defense, also represented a conflict of interest due to a previous job at a consultancy where he worked with AWS.
Oracle's filing states: "Hidden job offers and bonus payments by a federal contractor (AWS) to federal procurement officials during a multi-billion dollar procurement; downloading and removal of JEDI procurement materials by a JEDI official with an AWS job offer in hand; "highly technical" meetings with AWS cloud competitors orchestrated and conducted by this same official (after committing to return to AWS); strenuous advocacy for gate criteria limiting competition, massive technical requirements favoring AWS, and a single source award all advocated by a DoD official with an undisclosed agreement to return to AWS.
"AWS officials leveraging a DoD JEDI official with who AWS had a hidden job agreement in JEDI-related meeting; AWS failing to timely disclose material misstatements made to DoD in connection with a federal procurement; and more, now exist in this procurement record. And the DoD IG and FBI investigations continue. For most contractors, competition exclusion would be the least of the worries. For AWS, there are no consequences."
The DoD has downplayed the role the individuals had in making the JEDI contract criteria, and dismissed claims of impropriety.
Judge Eric G. Bruggink dismissed Oracle's case, backing the DoD's claims that no conflicts of interest influenced the procurement process.
The main reason given for dismissing the case was that, because the original contract criteria were found legal, and Oracle was unable to compete under those criteria, "we conclude that it cannot demonstrate prejudice as a result of other possible errors in the procurement process."
In a statement, Pentagon spokesperson Elissa Smith said: "This reaffirms the DoD's position: the JEDI Cloud procurement process has been conducted as a fair, full and open competition, which the contracting officer and her team executed in compliance with the law.
"DoD has an urgent need to get these critical capabilities in place to support the warfighter and we have multiple military services and combatant commands waiting on the availability of JEDI. Our focus continues to be on finalizing the award decision."
Earlier this year, the court dismissed a similar case brought by IBM.
The JEDI contract is now set to proceed, with only Amazon and Azure eligible, with an award expected to be announced in late August.
There remains perhaps one more roadblock, however, with Senator Marco Rubio last week writing an open letter to National Security Advisor John Bolton: "JEDI has the potential to be a $10 billion, 10-year contract. This type of fiscal and time commitment should demand a procurement steeped in competition and conducted without bias toward any one vendor.
"However, DoD has used arbitrary criteria and standards for bidders. Even though 200 companies were initially interested, DoD instituted such a restrictive criteria that only four companies bid on JEDI. DoD then further used the arbitrary criteria to eliminate two of the bidders, IBM and Oracle, leaving only Amazon and Microsoft. And in the end, DoD plans to award this massive contract to a single vendor, even though multiple vendors would ensure continuing price competition and access to the latest innovations."
Rubio, who in 2016 received $4m in campaign donations from Oracle founder Larry Ellison, added: "I respectfully request that you direct the delay of an award until all efforts are concluded in addition to evaluating all bids in a fair and open process in order to provide the competition necessary to obtain the best cost and best technology for its cloud computing needs."
Microsoft's last minute work
Whether because of impropriety, or simply because they had the best cloud service for this use case, the original JEDI proposal did indeed seem heavily favored towards Amazon Web Services, with contractual stipulations only it met at the time.
But with the added delay to the contract's closure, brought about by multiple lawsuits and internal investigations, Microsoft Azure has become a viable contender.
This year it gained DoD Impact Level 6 (IL6) compliance on some of its data centers, and rolled out two new Azure Government Secret regions.