Low Earth Orbit (LEO) satellite firm OneWeb has signed deals with Momentum, Connecta, and Stallion Infrastructure as it launches services across more of North America and Europe.
The company recently announced the expansion of its connectivity services throughout Europe and the majority of the United States, with services now available above the latitude of 35 degrees north.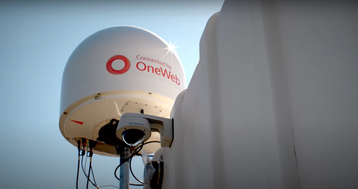 The expansion means the company and its partners can now offer services to Austria, Italy, France, and Portugal in Europe, as well as the entire western US coast from Washington to California, and the northeast coast from Maine to Virginia.
The news comes as OneWeb continues to broaden its distributor base, bringing on several new firms.
Momentum
Momentum, a provider of enterprise connectivity solutions in remote areas throughout North and South America, has partnered with OneWeb and Eutelsat.
The company announced an enhanced agreement that will enable Momentum to use OneWeb's satellite fleet on top of Eutelsat's ADVANCE network-as-a-service connectivity solution.
The deal will help Momentum bring more communications services to oil and gas projects and facilities across Canada and the US, allowing customers to remotely control, monitor, and manage multiple site locations in real-time.
Brad Kossowan, COO of Momentum, said: "Our enhanced partnership with Eutelsat and OneWeb is a game-changer for oil & gas operators in remote locations. It supports the growing demand for real-time data, monitoring and managing operations on-site or remote, crew communications, and wellness. Eutelsat's robust offer for high-end connectivity solutions, paired with OneWeb's global LEO constellation is the perfect complement to our enterprise connectivity services."
Cyril Dujardin, general manager connectivity business unit of Eutelsat, added: "Through our partnership with OneWeb, we are proud to collaborate and provide Momentum with new, advanced connectivity solutions. With this hybrid approach, we can give clients tailor-made, dynamic, and high-performance communication services, leveraging our industry experience know-how and providing end-to-end support."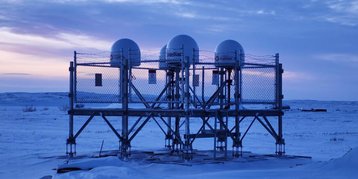 Stallion Infrastructure Services
In the US, OneWeb recently announced Stallion Infrastructure Services as a distribution partner.
Stallion provides jobsite services and rental services, including on-site radio, Wi-Fi, LTE, and satellite communications. The satellite firm will provide Stallion with high-bandwidth and low-latency connectivity, bolstering its existing suite of technology services.
"We are pleased to strengthen our distribution network through this strategic partnership with Stallion, a trusted leader in customized communication solutions," said Kevin Steen, CEO of OneWeb Technologies. "Together with Stallion, we are dedicated to delivering reliable communications to commercial and civil government customers."
Stallion Infrastructure CEO, Darron Anderson, added: "As the leader in designing, developing, and delivering critical communications technology, we are pleased to now offer OneWeb's LEO-based global communications services and solutions via this partnership with OneWeb Technologies."
Connecta
OneWeb has also signed a distribution deal with Connecta Satellite Solutions to provide broadband connectivity throughout the United States and the Caribbean. Florida-based Connecta will be offering OneWeb-powered solutions to enterprise and government customers in these regions.
"We are thrilled to enter into this partnership with OneWeb, a pioneer in Low Earth Orbit satellite communications," said Marlos Barbosa, CEO, Connecta Satellite Solutions. "This collaboration will enable us to offer our customers high-speed, low-latency connectivity solutions that will drive innovation and economic growth in underserved areas. We look forward to working closely with OneWeb to provide exceptional service and expand the reach of satellite connectivity throughout the country."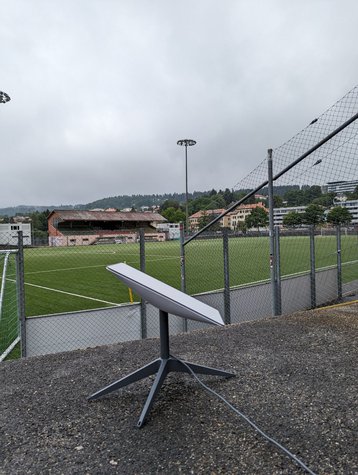 Champions League via LEO
OneWeb-based connectivity has also been set up on Papa Stour, a remote island amongst the Shetland islands in Scotland, in partnership with Clarus Networks Group and supported by the UK government's 'Very Hard to Reach' program. The network used flat panels from Kymeta. Papa Stour has a population of around 15 people.
Last month saw OneWeb break ground on a previously announced ground station at Arctic Space's facility in Piteå, Sweden. The deal will see 27 satellite tracking antenna systems installed that are expected to be operational in Q3 2023.
The company's satellite network was also used for sports broadcasting.
On the Faroe Islands, a Champions League qualifier match between KÍ Klaksvík and Ferencvaros was broadcast to viewers across multiple TV and streaming platforms around the world via the OneWeb network via Network Innovations and Open Broadcast Systems. The project also used flat panels from Kymeta and Zixi's provides software-defined broadcast video platform.
"With consistent speeds of 75mbps download and 15mbps upload, broadcasters could overcome the connectivity challenges that this unique and remote location brings - all made possible through Kymeta Corporation's flat-panel u8 terminal," Network Innovations said.
The football/soccer game, at the Við Djúpumýrar (formerly known as the Injector Arena) in Klaksvík, finished 0-0, with the second leg to be played at Hungary's Ferencváros Stadion (aka Groupama Aréna) in Ferencváros, Budapest, on July 19.
"We have proven that OneWeb is a suitable alternative to traditional satellite vehicles (of which the Faroe Islands have none) for high-quality sports transmissions by delivering a reliable stream at comparable bitrates," Kieran Kunhya, founder and CEO at Open Broadcast Systems (OBS).
OBS has also recently worked with sports production firm MSTV to deliver live coverage of soccer teams SK Sturm Graz vs Aris Limassol from Friedberg in Austria over bonded Starlink and 5G to CYTA in Cyprus, as well as the Resisprint International athletics meet at La Chaux-de-Fonds in Switzerland via Starlink.
In other satellite news:
- Starlink has launched in Guatemala and Cyprus, and is now available in 60 countries.
- Gilat Satellite Networks has won a multi-million-dollar contract for a cellular backhaul over a satellite project led by a Mexican federal agency. Gilat's cellular backhaul solution is being used to connect hundreds of 4G sites within the 'CFE Telecommunications and Internet for All' initiative.