Low Earth Orbit (LEO) satellite firm OneWeb and Canadian ISP Galaxy Broadband Communications Inc. have signed a US$50 million deal.
The companies this week announced a multi-year deal to deliver OneWeb's LEO connectivity solutions across Canada, including the northern territory of Nunavut.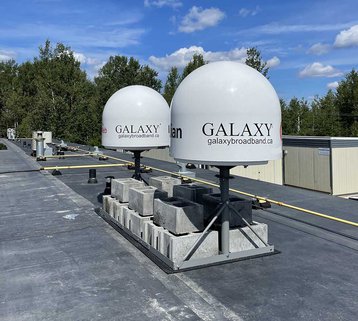 Galaxy became a OneWeb distribution partner in September 2021. The firm has already deployed OneWeb services to more than 75 locations throughout Canada, meeting a range of customer needs and connecting anywhere from 30 to 800 users at each site.
Neil Masterson, CEO of OneWeb, said: "We are thrilled to be expanding our work with Galaxy, delivering on our mission to provide high-speed, low-latency service to more rural and remote areas where connectivity is long overdue. With decades of experience successfully connecting Canadians, Galaxy is one of OneWeb's first partners and we are proud of the service we have been able to deliver together across Canada. Galaxy recognized early on the unique capabilities a low Earth orbit satellite constellation can offer to reach some of the most remote locations."
The companies said the deal will enable Galaxy to support the digital transformation of enterprises, communities, civil, and military government users, giving access to information, productivity tools, and cloud services.
Rick Hodgkinson, CEO and founder of Galaxy Broadband Communications, added: "Galaxy is delighted to expand its business with OneWeb and secure the bandwidth vital to improve connectivity throughout Nunavut. There are numerous communities throughout Canada that do not have access to broadband Internet, with the challenge in Nunavut being particularly acute as the Territory is 100 percent dependent on satellite connectivity services. OneWeb's low Earth orbit satellites will improve connectivity in the Territory and is an important milestone for Nunavummiut."
Hodgkinson said Galaxy's roll-out of OneWeb services is underway with a target to have all 25 communities in Nunavut connected by the end of 2023.