TDS subsidiary OneNeck IT Solutions has been awarded its first US patent, for a data center sensor which collects information on heat and humidity inside server cabinets. 
OneNeck operates data centers and provides colocation, cloud, and managed IT services in the US. It runs nine facilities, located in Oregon, Iowa (both in Cedar Falls and Des Moines), Colorado, Arizona, Wisconsin, Minnesota and New Jersey.
Its parent company, Telephone and Data Systems, which offers wireless, broadband and telecommunications products and services, provided the ressources for the patent application.
T-H-M-A-C-S-C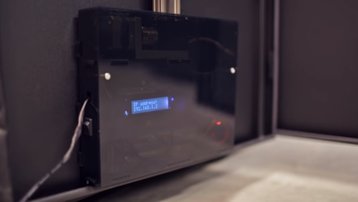 The company's senior VP for mission-critical facilities, Hank Koch, says the patent will allow the company to "differentiate" itself from other colocation providers, with CEO Terry Swanson stating that having been awarded the patent is a "very exciting position to be in."
The so-called "temperature-humidity monitoring assembly for closed server cabinet," registered as U.S. Patent number 9,843,847, sweeps up and down server cabinets, detecting hot spots and measuring humidity levels.
It then creates a color coded heat-map, allowing for fault detection and improved understanding of airflow. The information can and will osensibly feed into data center infrastructure management (DCIM) software as part of a wider monitoring and automation strategy.
While DCIM as a concept got off to a shaky start when it emerged in the early 2010s, leaving some dubious as to its potential, real applications have since been developed, and the technology has gained some ground.
An increasing number of power and cooling vendors have developed their own DCIM products, including Stultz, Schneider Electric (which recently launched a cloud-based suite, EcoStruxture IT), Vertiv, Panduit and ABB.
As with any monitoring system, the collection of relevant, accurate data is essential. This is what OneNeck hopes to achieve with the roaming robotic sensor.
Hank Koch believes that "equipped with [the] information" from the sensor, "our facilities technicians can quickly make the necessary adjustments to improve overall air flow. Bottom-line, this monitoring device can aid our clients in managing their internal rack, cable placement and airflows, thus preventing overheating, early burn-out or, even worse, downtime."
You can watch a video of the sensor in action here.