Google has joined the Open Compute Project (OCP), and is contributing 48V DC power distribution technology to the group, which Facebook created to share efficient data center hardware designs.
Urs Hölzle, Google's senior vice president of technology, made the surprise announcement at the end of a lengthy keynote session on the first day of the Open Compute event. The 48V direct current "shallow" data center rack, has long been a part of Google's mostl-secret data center architecture, but the giant now wants to share it.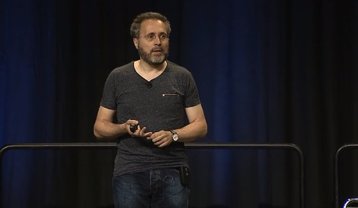 No need for duplication
Hölzle said Google's 48V rack specifications had increased its energy efficiency by 30 percent by eliminating the multiple transformers usually deployed in a data center.
Google is submitting the specification to OCP, and is now working with Facebook on a standard that can be built by vendors, and which Google and Facebook could both adopt, he said. 
"We have several years of experience with this," said Hölzle, as Google has deployed 48V technology across large data centers.
As well as using a simplified power distribution, Google's racks are shallower than the norm, because IT equipment can now be built in shorter units. Shallower racks mean more aisles can fit into a given floorspace. 
Google is joining OCP because there is no need for multiple 48V distribution standards, said Hölzle, explaining that open source is good for "non-core" technologies, where "everyone benefits from a standardized solution".
Google is the most significant firm to join OCP since Microsoft came on board in 2014, but Hölzle's news wasn't the only significant thing in the keynote session, which also included a major open source network component called SONIC, proposed by Microsoft, some significant server announcements from Intel, and a presentation from Bell Labs, now owned by Nokia. 
The conference was opened by Open Compute's chairman Jason Taylor, also a Facebook vice president, who apologized for not having a beard like Frank Frankovsky, the founder of Open Compute, who Taylor succeeded in 2015.