GPU giant Nvidia has changed the licensing agreement for driver software required to operate its GeForce and Titan graphics processing units, prohibiting data center use.
The company claims that the move was made as GeForce and Titan were not built with data center deployments in mind, but many see it as a way of ensuring customers pay for the similar, but more expensive, Tesla GPU line.
What they don't know won't hurt them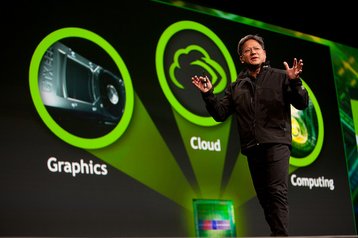 The updated end-user license agreement (EULA) states: "No Datacenter Deployment. The software is not licensed for datacenter deployment, except that blockchain processing in a datacenter is permitted."
After some customers raised concerns on Reddit, the company told CNBC in a statement: "GeForce and Titan GPUs were never designed for data center deployments with the complex hardware, software, and thermal requirements for 24x7 operation, where there are often multi-stack racks.
"To clarify this, we recently added a provision to our GeForce-specific EULA to discourage potential misuse of our GeForce and Titan products in demanding, large-scale enterprise environments."
A spokesperson added: "We recognize that researchers often adapt GeForce and Titan products for non-commercial uses or other research uses that do not operate at data center scale. Nvidia does not intend to prohibit such uses."
Nvidia's share price surged some 85 percent in 2017 as artificial intelligence researchers turned to its GPUs for processing specialist machine learning workloads. Nvidia's CUDA platform and programming model has been widely adopted by AI developer community, supported by Nvidia's cuDNN machine learning libraries.
Competitor AMD's software has been less successful, but it is trying to catch up. The company hopes to gain support for its Radeon Instinct family, a hardware and software stack built around the Radeon Open Compute Platform (ROCm, previously known as the Boltzmann Initiative).
Last summer, AMD partnered with Baidu to work on optimizing Radeon Instinct GPU software in the Chinese tech giant's data centers. The next month, however, Baidu - along with Alibaba and Tencent - announced it would deploy Nvidia Tesla V100 GPU accelerators.
YaQin Zhang, president of Baidu, said at the time: "By leaning into the most advanced AI technology available, we are accelerating the application of AI to create more opportunities for our customers and society as a whole."