NTT Group has announced that it will provide support towards helping Guam's disaster recovery efforts following Typhoon Mawar.
The Japanese company, which is made up of NTT Docomo, NTT Corporation, and NTT East Corporation, will provide its network engineers and repair equipment to support recovery efforts on the island.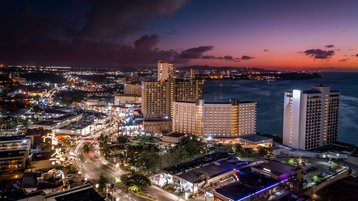 Typhoon Mawar hit Guam on May 22, pounding the country with winds over 140mph, causing power outages on the island as IT and communications infrastructure was damaged.
In total, six people across Guam, the Philippines, Taiwan, and Japan were reported dead in the wake of the typhoon.
The typhoon led to cell towers in Guam going down, with the Federal Communications Commission (FCC) noting that the US territory had 163 towers offline a week after the typhoon hit land. 120 towers were on, but running on backup power.
As part of its support efforts, NTT will deploy 10 network engineers and 12 bucket trucks from the company's HQ in Japan.
"We were happy to assist in whatever capacity we could from the federal side," said James Moylan, delegate to the US House of Representatives for Guam. "For our island to recover effectively requires a team effort, and this endeavor clearly emphasized that. Having accessible data would certainly help many families take another step towards normalcy."
NTT's Docomo Pacific was the first mobile operator to launch mobile 5G in Guam and Saipan, doing so in 2020.