NTT Com, a subsidiary of the Japanese telecommunications giant, has obtained a Virtual Network Operator – International Long Distance (VNO-ILD) license in India.
This enables the company to offer international connectivity to Indian customers through its Arcstar Universal One global network that reaches 196 countries and regions, something it was previously unable to do.
New services will be offered by a separate business entity owned by NTT Com - NTT Communications India Network Services Private Limited – which was established in 2015.
Papers, please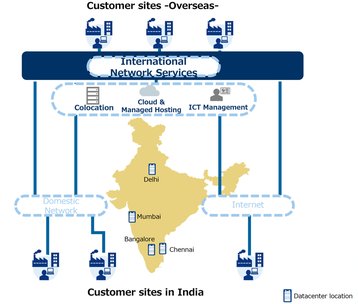 NTT Com is a subsidiary of Nippon Telegraph and Telephone Corporation, the largest telecommunications company in the world in terms of revenue. It was established by the Japanese government in 1952, and around a third of its shares are still owned by the state.
NTT Com runs a network of more than 130 data centers worldwide, serving 196 countries and regions. It considerably increased its presence in India after it bought a 74 percent stake in local managed services provider Netmagic in 2012. However, due to the peculiarities of Indian regulatory landscape, the company had been limited to providing colocation, managed services and system integration.
In 2015, NTT Com obtained a unified license for National Long-Distance services (NLD), which it needed to begin providing network connectivity across the country. Now, the company has received a second license, which enables it to offer the complete range of services enjoyed by NTT customers in other parts of the world.
"With the enhanced network capabilities coupled with managed hosting and cloud services, we are always committed to enable our customers to reap the maximum value from their technology investments. This suite of offerings provides a robust value proposition as an ICT provider to meet our customers' IT infrastructure and connectivity requirements," said Sharad Sanghi, managing director and CEO of Netmagic.