Japanese communications giant NTT has held a traditional launch ceremony for Kizuna, its latest cable-laying ship. Kizuna (絆) is a Japanese word for 'bond', a name chosen in a poll of NTT employees.
The ship is a joint project between three NTT subsidiaries: NTT Com, NTT World Engineering Marine Corporation (NTTWEM) and NTT Finance Corporation (NTT Finance).
The 8,500-ton vessel measures 109 meters in length and 20 meters in width. It will have a planned average cruising speed of 13 knots and enough space to host up to 60 crew.
Kizuna will enter service before the end of the year.
Brave the waves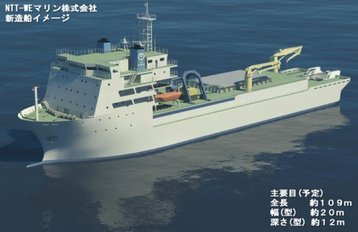 NTT World Engineering Marine Corporation is a part of NTT responsible for submarine cables, with three ships already in operation.
Kizuna will be owned by NTT Finance and leased to NTTWEM and other telecommunications companies as required.
The ship was designed and built at Kanrei shipyard in Tokushima, Japan. Its advanced design incorporates azimuth propellers, an electric propulsion system and a dynamic positioning system.
According to NTT, these features will enable the vessel to navigate quickly, remain stable over fixed points while at sea, and withstand wave heights of up to three meters.
Cable laying and maintenance will be carried out by a Remotely Operated Vehicle (ROV), essentially a robotic submarine that can descend to the depths of 2,500 meters. NTT notes that Kizuna is smaller than its sister ship 'Subaru' so it will be especially suitable for work in congested Japanese waters.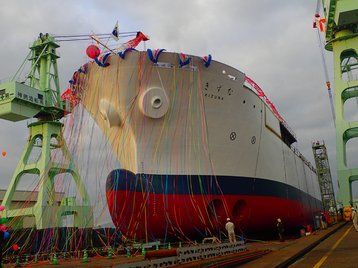 The vessel can also transport disaster recovery vehicles and emergency cellular network base stations, as well as satellite communication facilities and temporary accommodation for NTT group employees working in disaster zones.
The calligraphy of the Japanese character for 'kizuna' appearing on the ship's body (left) is the work of Tetsuya Shoji, president and CEO of NTT Com.