Nokia is set to roll-out the latest of its AirFrame servers for mobile network operators, this time built for cloud-based radio networks.
The servers, which will be on sale from the third quarter of 2018, were designed to be deployed at the base of cell towers, and will support cloud-based radio access network (RAN) applications.
The idea is that 5G will introduce a need for a distributed architecture with regional, centralized and edge processing capabilities, and that the product will serve the latter.
Edge before it was cool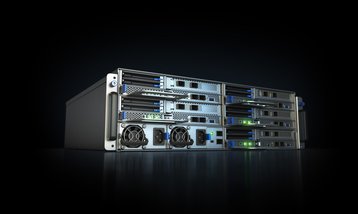 Nokia, a platinum member of the Open Compute Project (OCP), has long advocated the benefits of open ecosystems. At its inception, the AirFrame range integrated OCP designs, becoming one of the drivers of OCP-based, telco-oriented hardware.
The AirFrame Open Edge server, also built according to OCP specs, is compatible with existing Nokia servers and switches, which Dimitris Mavrakis, Research Director at ABIResearch said will "provide for a lower friction transition to a distributed environment."
The server's software is based on OpenStack and OPNFV, developed with fast deployment in edge facilities managed by a centralized core in mind.
A chassis can accommodate up to five servers, each of which can be accelerated with Nokia's ReefShark chips, two of which were released earlier this year. The first was optimized for maximal compute capacity, the other for radio frequency applications.
Even without this, though, Intel's data center group VP, Dan Rodriguez said the use of Xeon processors would provide the "needed balance of compute, I/O and memory capacity for the edge cloud to work seamlessly across the wide range of workloads deployed on the edge."
Marc Rouanne, president of Mobile Networks at Nokia, said: "The edge cloud will play an essential role in delivering the compute power required for 5G. By expanding our AirFrame and 5G Future X portfolio we can provide a network architecture that meets the needs of any operator and their customers.
"Used with the Nokia ReefShark chipset and our real-time cloud infrastructure software, the Nokia AirFrame open edge server will deliver the right decentralization of 4G and 5G networks. We can work with operators to ensure that data center capabilities are deployed exactly where they are needed to manage demands as they expand their service offering."