The US National Oceanic and Atmospheric Administration plans to migrate a "significant portion" of its data to one or more cloud services.
The move is the next step in the NOAA's Big Data Project, which started in 2015 to explore what the agency could gain from cloud computing. The NOAA says that it "generates tens of terabytes of data a day from satellites, radars, ships, weather models, and other sources."
Cloud-based cloud services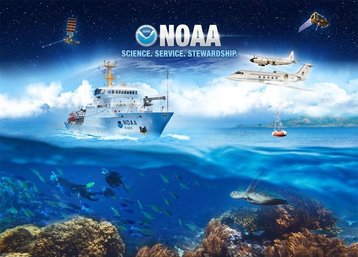 "Based on its experience as a user of cloud services and through the Big Data Project, NOAA is seeking one or more contractual arrangements that would allow it to place a significant portion of its data in one or more cloud platforms, for its use and use by the public," stated a request for information (RFI) first reported by Bloomberg Government.
"Such use could be in the form of egress or cloud-based processing, to include high-performance computing.
"NOAA seeks to host data on cloud platforms to enable easier discoverability and access, allowing the untapped value of NOAA's data to be realized through the generation of novel products and services."
The agency is looking for feedback on any of the five platforms used in the Big Data Project - Amazon Web Services, Google Cloud Platform, IBM Cloud, Microsoft Azure and the Open Commons Consortium.
It also wants cloud service providers, cloud service brokers, and contracting support personnel to provide information.
The NOAA's cloud collaborators are not allowed to sell data, and it must be available to the public at no charge. However, they can "monetize value-added services and/or co-located third party processing and applications."
The agency says it expects that easier access to information will lead industry, academia, and the public to "rapidly take advantage of the untapped value of NOAA's data, and generate new economic opportunities by creating innovative products and services."
Questions for the RFI are due October 8, and responses are due by October 15.