The Nigerian Stock Exchange (NSE) has opened a highly available data center in Lagos, built to Tier III redundancy standards.
The facility will serve both financial market operators and regular colocation customers, with offsite backup in a partner Tier III facility located 25km away.
According to Premium Times, the project cost NGN 500m ($1.39m).
The facility was commissioned by the Minister of Science and Technology, Dr. Ogbonnaya Onu, who was present at the opening ceremony. "Technology remains one of the drivers of growth for any economy and am impressed that the Exchange is at the forefront of adoption while partnering with other Nigerian companies," Onu said.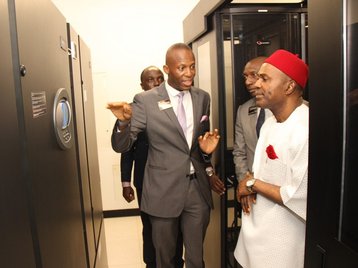 Aiming to compete

The new data center should enable NSE to expand its reach and better compete with other trading platforms across Africa.
"It comes with real time monitoring of active devices, N+1 resistance of all critical components, 99.982 percent availability, uninterrupted power supply and market leading cloud hosting capabilities," said Ade Bajomo, executive director for Market Operations and Technology at NSE.
"At the Exchange, we strive to maintain 100 percent availability of all market platforms and have been very successful in this quest. Currently, 90 percent of all trades are also done outside the Exchange, in a fully automated manner and the criticality of the data center is key for market confidence and growth. Our Data Center can currently host 50 clients but can scale up rapidly with demand."
Bajomo added that power usage remained a significant aspect of data center operating expenses, and that NSE chose the facility components and cooling strategy carefully to conserve energy.