Communications specialist NexGen Networks has moved to improve connectivity for its customers in Latin America, the Caribbean and southern US by investing in a point of presence (PoP) at Verizon's NAP of the Americas facility in Miami.
NexGen says NAP of the Americas will become a key hub in its global fiber network. The 750,000 square foot facility - which it described as 'highly fortified' - is located in one of the highest points of Miami and features 7-inch thick steel-reinforced concrete panels on its exterior which it claims can resist a Category 5 hurricane.
At the same time Verizon, the largest wireless network operator in the US, is restructuring the services it offers from its data centers and withdrawing its public cloud offering.
Welcome to Miami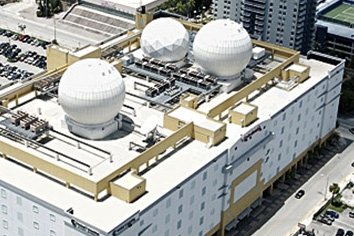 The coastal location of the NAP of the Americas makes it an important stopover for a substantial section of global Internet traffic, with the vast majority of Central and South American data flowing through the Verizon facility on the way to its final destination.
NexGen offers Ethernet, SONET, wavelength and dark fiber connectivity, as well as colocation services accessible in the major metropolitan areas across North America, Europe and the Far East.
The new PoP is part of a strategy to ramp up connectivity in a bid to create new opportunities in the Latin American markets, according to NexGen spokesman Jeff Barth.
Meanwhile Verizon has sent notice to customers, informing them that its public cloud services will be shut down. The company will continue to focus on the enterprise market, it said in a statement, but will discontinue the 'niche cloud service that accepted individual credit card swipes' on April 12.
In January, DCD reported that Verizon was exploring the options for selling off its global data center estate of nearly 50 enterprise-class facilities across the Americas, Europe and the Asia-Pacific region. The estimated value is around $2.5 billion, including the assets of Terremark that Verizon acquired in 2011 for $1.4 billion.