British telecoms and services company aql has formally opened a new data center in a "secure location," in the South Bank district of the City of Leeds. 
The facility has been in operation since December, and will contribute its waste heat to a district heating system, that Leeds has built to pipe heat from a waste treatment facility to local homes and businesses. 
Educational clients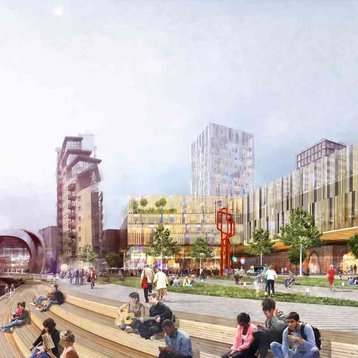 Back in December, Northern Powerhouse Partnership Minister Andrew Percy MP snipped the ribbon, stating that the facility would "make Leeds a hub for digital development in the North."
The new data center has been awarded a contract to serve a number of UK schools, universities and teaching hospitals from the new facility, its first tenant being the University of Leeds. 
To this end, it will link to Janet, the multi-terabit network which serves the UK educational community, which is operated by the Jisc non-profit agency. 
Chair of the Northern Powerhouse Partnership and former Chancellor of the Exchequer George Osborne MP, stated that the data center would play a "vital role" in "assisting academic institutions to benefit from faster, more reliable connections."
aql Founder and CEO, Adam Beaumont, hinted at possible future developments, stating that "big data storage is a growing requirement for the academic community as part of university-business research projects, so we plan to continue our investment in the city and build further facilities, as needed by Jisc and our UK academic tenants."
District heating 
District heating is often used in Nordic countries, but is a rarity in the UK, but Leeds has invested £21 million in a scheme to pump heat from a new recycling and energy recovery facility (RERF), .
The facility is also energy-efficient, and Osborne said he hoped the data center would contribute to the City's renewable energy commitment. 
According to Beaumont, it will be interfaced with "newly-planned district heating", potentially to be used in an open air heated swimming pool in the new South Bank development, a £350 million ($430m) Commercial Estates Group (CEG) sponsored regeneration project.
The Leeds Institute of Data Analytics (LIDA) also applauded the investment, stating the facility will help meet the "ever-increasing demand for high performance computing and the associated power and cooling requirements", providing "the best protection possible" for sensitive data.