AMD has launched two new adaptive radio computing chips for the 5G telecoms market through its Xilinx product line.
Ahead of Mobile World Congress (MWC), the semiconductor company also unveiled the creation of its new Telco Solution Testing Lab.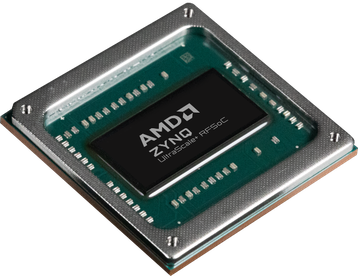 AMD has added two new additions to its portfolio that will further support the 5G telecoms market.
The products are the Zynq UltraScale+ RFSoC ZU63DR and Zynq UltraScale+ RFSoC ZU64DR devices.
According to AMD, these products will enable the expansion and deployment of 4G/5G radios into markets around the globe where lower-cost, power, and spectrum-efficient radios are required to address increased wireless connectivity.
"With our focus toward increasing 5G deployments around the world, the new AMD Zynq UltraScale+ RFSoCs are especially cost-effective and energy-efficient, making them ideal for emerging global markets including rural and outdoor deployments," said Salil Raje, senior vice president and general manager, Adaptive and Embedded Computing Group, AMD.
AMD says that the Zynq UltraScale+ RFSoC ZU63DR specifically targets four transmit and four receive (4T4R) and dual-band entry-level O-RAN radio unit (O-RU) applications.
Meanwhile, the Zynq UltraScale+ RFSoC ZU64DR is targeted for eight transmit and eight receive (8T8R) O-RU applications using the third Generation Partner Project (3GPP) split-8 option, which supports alternative and legacy radio unit architectures.
Both RFSoC devices are expected to be in full production in Q2 2023.
Last year AMD completed the acquisition of FPGA-maker Xilinx, in a deal reported to be worth $35 billion. Chinese regulators approved the deal in January 2022 but said that AMD had to guarantee that it would not force Xilinx's products to be tied to AMD ones, or discriminate against customers.
AMD launches Telco Solutions Testing Lab
AMD also unveiled its Telco Solutions Testing Lab to help operators and vendors to validate complete end-to-end solutions from hardware to software, using the power and performance of the latest AMD processors, Adaptive SoCs, Smart NICs, FPGAs, and DPUs.  
The lab has been set up in collaboration with communications equipment firm Viavi.
Viavi's end-to-end testing suite was selected to provide the network test solution to analyze, develop, and validate the impact of real-life conditions across an entire telco network, noted AMD.
AMD added that its Telco Solutions testing lab can enable traffic simulation and generation across core, CU/DU, Edge, and RAN using both current and future AMD technologies.
Its Telco Solutions testing lab is based in Santa Clara, California, and will bring its first 5G ecosystem partners at the beginning of the second quarter.