Microsoft continues to experiment with the concept of data centers run on gas-powered fuel cells, building upon previous attempts dating back to 2012.
In this latest step, the cloud giant is partnering with McKinstry and Cummins on The Advanced Energy Lab 20-rack deployment in Seattle.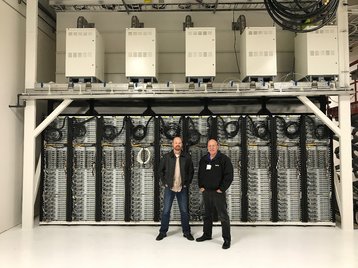 Going off grid
Back in 2012, Microsoft announced plans to install a data center module called ITPAC along with a fuel cell at Wyoming's Dry Creek Water Reclamation Facility. The experiment progressed slowly, and was officially launched two years later.
During that time, Microsoft also partnered with the National Fuel Cell Research Center at the University of California Irvine, where it tested in-rack fuel cells.
Now, the company is taking the next step, with GM Christian Belady and principal Sean James writing in a blog post: "We're excited to announce our partnership with McKinstry and Cummins to build the world's first gas data center. In this pilot, racks are directly connected to natural gas pipes and fully powered by integrated fuel cells instead of traditional electrical gear.
"The Advanced Energy Lab is a 20-rack data center pilot located in Seattle. What makes this project so disruptive is how radically it simplifies the process of powering servers and how this could almost double the energy efficiency of data centers - all while reducing costs and improving reliability."
The $3.4 million project is in part-funded by a $674,000 grant from a Washington state program that aims to promote clean energy technology. It still, however, requires clearance from city officials.
While the concept is in its formative stages, Microsoft has high hopes for the concept, telling The Seattle Times that its research suggests that that mass-produced fuel cells would cut the cost of installing a new data center rack by at least 10 percent, and drop operating costs by 21 percent.
That equates to about $80 per rack, per month, Microsoft's researchers claim.