Microsoft has launched an Azure cloud region in Norway, delivering it from two data centers announced in 2018.
The company has cloud regions based in facilities in Oslo and Stavanger. Also today, Microsoft has announced a pilot project in neighboring Sweden, working with energy supplier Vattenfall, to give businesses real-time visibility of the sources of their electricity consumption.
Nordic cloud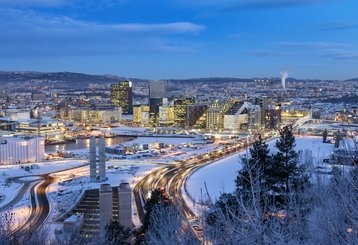 Microsoft is the first of the global cloud providers to get regions running in Norway, beating Amazon Web Services (AWS) and Google. Azure president Brad Smith says this locally delivered cloud will help customers to meet Norwegian privacy rules.
"Our customers have entrusted us to protect, operate, and develop our platform in a way that keeps their data private and secure," said Smith on a visit to Norway, according to an Azure blog. "This is an immense responsibility that we can't just claim, but a responsibility that we must earn every single day."
Microsoft already has several customers on Azure in Norway, including DNB, the country's largest financial group. DNB will be migrating to the Azure cloud, allowing its customers to do international business while meeting Norwegian data handling regulations. "The possibility of data residency was a decisive factor in choosing Microsoft's data center regions," said Alf Otterstad, EVP of IT at DNB
Energy company Equinor is moving its systems to Azure, and Lånekassen, and the Norwegian State Educational Loan Fund is moving to Azure and planning to develop other citizen services for the Norwegian workforce. The Norwegian postal service, Posten Norge AS is also a customer.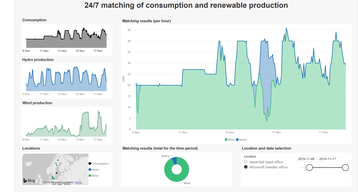 24/7 renewables
In neighboring Sweden, Microsoft is working with energy suppliers Vattenfall on a project to give customers a real-time view of the sources of the electricity they consume. The scheme runs in the Azure cloud, and combines data on energy generation with information from smart meters. It is being piloted at Microsoft's Swedish head office and a Vattenfall location, and will be rolled out more widely if successful.
Companies wanting to move to 100 percent renewable energy currently have to rely on Guarantees of Origin (GOs, which give proof of energy usage, based on matching consumption and production over a year. The new solution could offer GOs on an hourly basis, so companies will be able to prove their renewable energy usage in real time.
"With this new level of transparency, you can see if your commitment to 100 percent renewable energy covers each hour of consumption," said Daniel Akenine, national technology officer at Microsoft Sweden. This pilot has the potential to change the dynamics of renewable energy production and accelerate the reality of a fossil-free future for everyone."
Swedish data center campus Node Pole sees this as a potentially important development for the future. "I think that the solution that has been developed by Vattenfall and Microsoft will eventually become a new paradigm for how the data center industry will buy renewable power, as this will enable them to prove that they live up to the pledge of 100% renewables, on a 24/7 basis," said Patrik Öhlund, CEO of the Node Pole. "It also creates a foundation for market-based drivers for new renewable power production, as well as large-scale solutions for energy storage."
Since 2016, the Node Pole has been jointly owned by Vattenfall and another Swedish utility, Skellefteå Kraft.
The new Norway region means Microsoft now has 54 regions and a global network with 130,000 miles of terrestrial fiber and subsea cable systems.