Flash memory specialist Micron has launched a solid state drive (SSD) designed for enterprise storage that features the Trusted Computing Group (TCG) hardware encryption.
The M510DC is a 2.5-inch SATA drive fine-tuned for fast reads. The device is one of the first to support TCG Enterprise encryption on flash, making it suitable for highly regulated industries like healthcare and finance.
The drive also features third-generation XPERT firmware architecture that, among other things, protects the data in the event of a sudden power outage.
It has emerged today that China's state-backed Tsinghua Unigroup is preparing a $23 billion bid for Micron. If the deal goes ahead, it will become the biggest ever acquisition of an American company by a Chinese competitor.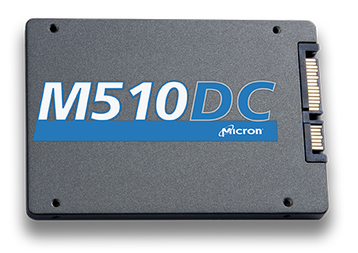 Keeping secrets

The M510DC is built with 16nm NAND silicon and offers high read performance, making it a suitable storage medium for content delivery services, customer web applications and analytics.
The drive is available in capacities between 120GB and 960GB, with all versions supporting sequential read speeds of 420MB/s and delivering read performance of around 63,000 IOPS.
The M510DC protects data at rest using the TCG Enterprise standard – it features a circuit built into the controller chip that encrypts all data written to flash and decrypts all the data read from it. This approach reduces the performance hit software encryption can have on a drive, while considerably improving security.
Micron warns that the new drive might have less endurance than some of the more expensive options – they are rated for two million hours MTBF (Mean Time Between Failures) but support few read/write cycles. At the same time, the company quotes findings of Greg Wong, founder and principal analyst at Forward Insights, who says two-thirds of today's newly optimized data center SSD purchases require one drive fill per day or less – which means they can safely use "cost-optimized" products.
"Data center architectures are increasingly deploying flash technology to realize nimble results, but have withheld adoption due to cost. The M510DC meets this rising data center segment demand, delivering enterprise-class stability and endurance at a cost that makes hard drives practically obsolete for certain applications," said Darren Thomas, vice president of storage at Micron.
The drive is in production and is already being sold to data center equipment manufacturers.
Reuters reports that Tsinghua Unigroup is planning to bid $23 billion for Micron, paying out $21 per share – an almost 20 percent premium on the stock price on Monday evening. However, the potential deal could be derailed by the US Committee on Foreign Investment in the United States – a likely scenario, taking into the account strained relations between two countries.