Following the approval of the tax deal which should bring a $5 billion Switch SuperNAP facility to Michigan, another authority in the state is marketing land at a giant wastewater treatment site for data centers.
Muskegon County wants to lease or sell 650 acres of an 11,000 acre wastewater management site for data center use. The plot has been renamed MI Tech Hub, and has good supplies of treated waste water for cooling, as well as renewable power from biomass, hydroelectric generation and the possibility of wind farms.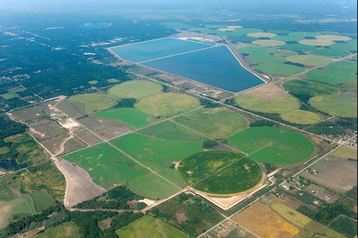 Strong potential
"We are reaching out to data center operators in Michigan and in surrounding areas in the Midwest to see if they are at capacity, to see if they have any needs or desire to expand in West Michigan," Muskegon County economic development coordinator Jonathan Wilson told TV station WZZM
Muskegon County took advice from a data center consulting firm, and the site has redundant fiber optic connections, and good supplies of power connections.try, and that's something Wilson hopes his county will be significantly involved in.
The wastewater management site has several power generation options, listed on its site. Already, a landfill operation on the site is pumping methane gas to local industires, and other possibilities include "waste grease, storage lagoon algae, wind, corn and soybean grain, and livestock waste in the form of methane, electricity, ethanol, or bio-diesel."
A project to put a 150MW wind farm on the site, to be built by Spain's Gamesas was much reported in 2012, but we haven't been able to find any references to its actual construction.