Mesosphere has released a beta of its open source DC/OS container operations platform for building, running and scaling enterprise applications. It is based on the organisation's Enterprise Datacenter Operating System and Apache Mesos, and the project has already attracted a community of over 60 partners.
Prior to launch, key partners such as Accenture, Cisco, Hewlett-Packard Enterprise (HPE) and Microsoft had early access and they will continue to help to develop the project by integrating their technologies and making open source software contributions. Microsoft has already incorporated DC/OS into its release of the Azure Container Service.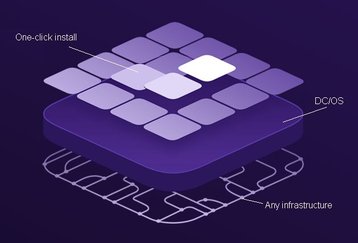 Single-click self service
DC/OS enables container operations at scale through single-click installations of over 20 distributed systems, or "services", similar to app store installations. These include a number of Apache Software Foundation projects, such as Hadoop Distributed File System (HDFS), Spark, Kafka, and Cassandra. Various partners will be adding to the services repository as the system develops.
"DC/OS is the inevitable next step for Apache Mesos," said Benjamin Hindman, co-creator of Mesos and Mesosphere's chief architect and co-founder. "Organisations that run Mesos quickly discover they need all of the components we've built into DC/OS. DC/OS will democratise large-scale distributed systems and the applications they power, building on the work of the Apache Mesos kernel."
Mesos technology was developed at the University of California, Berkeley, in 2009. It was borne out of the desire to create an open source version of the kind of systems that companies like Microsoft and Google developed to manage their own datacenter resources. Mesos works by aggregating tens of thousands of servers into a single logical computer on which many workloads can run simultaneously.
Florian Leibert, CEO and co-founder of Mesosphere, said, "The world needed a better architecture for all modern apps, not just containers. DC/OS represents a major industry transformation, delivering today's enterprises an open source datacenter-scale operating system that pools compute resources into what looks like one big computer, running containers, microservices, big data systems and other components of modern applications with ease."
Mesosphere is trying to attract further support for its community and has put out an open invitation for organisations and individuals to join the DC/OS project at dcos.io. The company is also keen for the community to determine where the long-term home for the project should be sited.