Meg Whitman, CEO of Hewlett Packard Enterprise (HPE), revealed some of the thinking behind the recent divestiture of parts of HPE's software and services businesses during the opening keynote of HPE Discover conference in London.
She also outlined the company's strategy going forward, based around three core tenets: making hybrid IT simple, powering the intelligent edge and differentiating through technology services.
Whitman was quick to point out that HPE wasn't getting out of the software business, and was planning to considerably grow its services capability.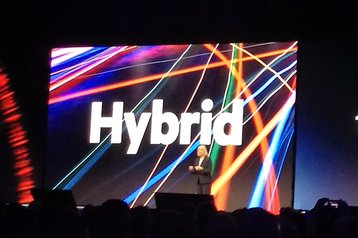 Fail forward
In September, HPE announced that it would spin off 'non-core' software products and merge them with the assets of British software firm MicroFocus, in return for a controlling stake in the new company. The deal was valued at $8.8 billion and included the remains of Autonomy, another British software firm that was acquired by HPE for $11.7bn in 2011.
"I can tell you we would not have agreed to this deal if we didn't believe that MicroFocus created a great environment for these assets," Whitman said. "In fact, MicroFocus has never shut down a product that it had acquired or merged with, and they also have many growing assets and businesses that we think will be important for all of you going forward."
"Now for those of you who have made investments in our software business, please rest assured that we remain fully committed to you, and I want to make sure that you feel very comfortable about what we're doing with these assets."
"Now, I also want to be very clear that we're actually not getting out of the software business. In fact, we are doubling down on software capabilities that power and differentiate our infrastructure solutions that are critical in a hybrid IT environment. We are aggressively driving innovation in HPE OneView, which is the very foundation of our leading-edge, software-defined offerings, providing secure, unified control of apps across servers, storage, memory and processing power."
"I think most of you know that OneView is at the core of our new HPE Synergy – the industry's first composable infrastructure – and also at the core of our hyperconverged systems. Now, since we launched HPE OneView in 2013, we've sold more than 500,000 licenses, and we have a growing, world-class partner ecosystem including Docker, Chef, Turbonomics and SaltStack."
Helpful hand
Whitman also offered some clarification on an earlier deal, which saw HPE spin off its Enterprise Services division and merge it with CSC. According to Whitman, the move is aimed at strengthening the company's professional services capability.
"This is absolutely the right move for our customers, as well as for our ES business, and frankly, for CSC as well. It will provide our combined customers with global access to world-class offerings in cloud, mobility, application development and modernization, business process services, IT services, big data and analytics, as well as security."
"I want to be very clear: services are more critical than ever at Hewlett Packard Enterprise. You need a partner who can help you manage through changes and complexity at high speed. We understand the pressures and challenges that you face every single day. So we're investing to expand our technology services capabilities, to provide world-class advisory, consulting and support that will help you take advantage of our learnings and innovative solutions."
The world will be Hybrid
During her keynote, Whitman acknowledged that hybrid cloud is likely to remain the dominant IT architecture for the next five years. HPE doesn't have a public cloud service of its own, ever since shutting down its Helion public cloud in the US, but the company has resolved this issue by making deals with IaaS partners including Microsoft.
"For us, hybrid IT starts with finding the right mix for your enterprise and industry, and enable you to adapt that mix as things change. After all, every company has its own needs and challenges, and your It environment needs to reflect that.
"We know some of your applications will stay locked down, in a data center, untouched by anyone except your own employees. Some applications will live in a private cloud, that offers the economics of public cloud, as well as the control and the customization that you want, because it's on your premises."
"Some applications will live in a managed environment, like Workday or SalesForce, and some will inevitably live in the public cloud. And that's why we defined our cloud strategy to be multi-cloud, it's why we are delivering next-generation, software defined infrastructure that will run your workloads today, while bridging to multi-cloud environments."