MainOne, a major provider of telecommunications services in West Africa, is hoping to build a data center in Sagamu, south-western Nigeria.
The plans were announced during the recent meeting between the company's board and the government of Ogun State, where Sagamu is located.
"Given its market and reputation as haven for manufacturing and other enterprises, growth potential, investment-friendly disposition and proximity to Lagos State, Ogun State has the potential to become one of the major hubs of industrialization in Nigeria," Fola Adeola, the chairman of MainOne, said. "Technology has a major role to play in that evolution."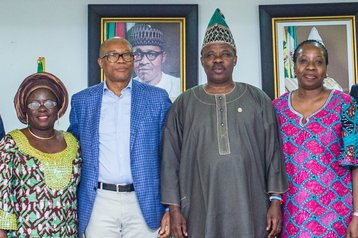 Infrastructure for growth

MainOne is owned by Main Street Technologies. It was established in 2010 to manage the building and operation of the privately funded Main One Cable System, stretching from Portugal to South Africa. Using the open access fiber backbone, the company soon diversified into colocation, managed hosting and cloud services.
Among other things, MainOne is responsible for a US$40 million data center in the suburbs of Lagos - the largest Tier III Design certified facility in West Africa, operated by its subsidiary MDX-i.
The company wants to build its next data center in Sagamu, Ogun State - 65 kilometers south-west of Lagos. It will be located at the Flowergate Industrial Park, and MainOne hopes to start construction later this year.
"As a pioneering broadband company in Nigeria, we are excited to partner with Ogun State by creating in Sagamu a technology hub, capable of attracting local and international technology companies to do business in the state," Funke Opeke, CEO of MainOne, said.
"This is similar to what we have achieved in Lagos, where we transformed the Yaba area into Nigeria's undisputed 'Silicon Valley' that is now attracting international attention and investments. Yaba is home to a significant number of Nigeria's tech hubs and start up community and has created thousands of direct jobs and tens of thousands of indirect jobs, by stimulation of the ISP, eCommerce and ICT sectors."
The plans have received a very positive reception from the local government, which pledged support for the project.
"We believe that infrastructure development is a vital component for Ogun State's economic growth and have continued to invest in new road and rail infrastructure within the state, which is already transforming the ease of doing business. In addition, Ogun State has a network of 21 tertiary institutions, which guarantees employers a capable indigenous workforce," Ibikunle Amosun, governor of Ogun State, said.