A Swedish bitcoin miner may have triggered a wave of competition between Nordic neighbours, by deciding to build its data center in Finland instead of its homeland, citing Finland's more welcoming energy tax regime.
Instead of Boden or Luleå in Sweden, Bitcoin company KnCMiner is planning to build a large data center in Finland, explaining that its business is based entirely on carrying out intensive processing for the lowest possible cost.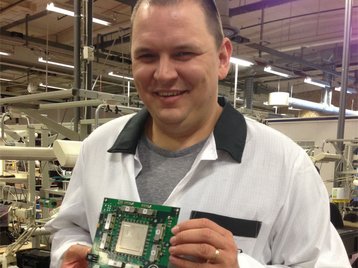 This is pure mathematics
KnCMiner chief executive Sam Cole said in an interview with Swedish TV: "This is pure mathematics. If we go from Luleå to Finland, we will save a lot. The conditions are the same, the climate is the same in both countries."
KnCMiner is set to spend €11m on the facility. KnCMiner already has a data centre in Boden's so-called "Node Pole", where a former Air Force base has also become the location of choice for other international IT companies.
Both countries are investing heavily in building up their internet infrastructures. Finland is building an underwater data cable to European powerhouse Germany. This project is bankrolled by German internet hosting company Hetzner Online, which has also announced plans to build a data center in Finland.
Hetzner Online claims that it chose Finland because of the low price and stability of energy supplies, its proximity to Russia and the benefits the planned undersea data cable would eventually bring.
Finland has been doing well recently in attracting outside investment. Google, Microsoft and Russian internet search company Yandex are all in the process of re-locating parts of their data center businesses to Finland. Other Finnish companies – such as Instru, Vaisala and Neles (now part of Metso) - have succeeded in areas such as industrial automation, medical and meteorological technology. Nokia was once a world leader in mobile telecommunications.
On Sweden's side, there are advantages including a low corporate tax rate of 26.3 percent, regional financial support: regional investment and employment grants and a good supply of skilled labour. 
Sweden's shortcomings include extensive laws and regulations; lack of access to capital and regulations affecting companies with fewer than 50 employees.
This is pure mathematics. If we go from Luleå to Finland, we will save a lot

KnCminer CEO Sam Cole
The Finnish software and IT services sector grew over 11 percent in 2014. This growth was thanks to small and medium sized firms, especially in the games industry. The turnover of the biggest firms is  mainly decreasing, but at the same time they were able to react to changes in the industry. 
While the Finnish high technology industry is one of the country's strongest, the lasting negative effects of the recent economic recession continue to trouble Finnish productivity. According to the most recent Federation of Finnish Technology Industries Situation and Outlook, turnover of technology companies was around €68 bn last year as compared to €82bn in 2008. New orders are down by 6 percent from the previous year and down by one-third compared to pre-crisis 2008. Business is predicted to remain at last year's level throughout the current year.
So both countries have a lot of improvements to make before either becomes a front-runner in winning data center business.