As we reported earlier, local residents in the Irish town of Athenry have taken to the streets to show support for Apple's planned €850 million data center, after the project hit repeated roadblocks.
Estimates differ on the number in attendance, ranging from several hundred to two thousand, with the Athenry for Apple group walking through the town holding placards and chanting The Fields of Athenry folk song.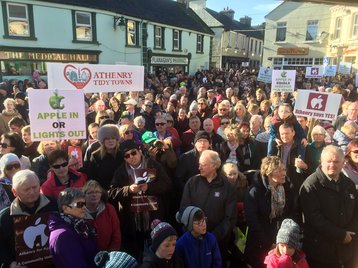 Local love
The massive data center, which aims to begin as one facility, with plans to build eight 25,000 square meter buildings in total, went through a lengthy approval process that saw concerns raised over issues such as whether it would cause harm to the local wildlife, whether it could flood the nearby golf course, or if construction would cause undue noise and traffic.
Following multiple delays since its announcement in February 2015, An Bord Pleanála gave permission to the project in August, but progress ground to a halt after some locals launched a High Court bid to stop it.
With a decision now set to take place over whether the High Court will fast-track its review of the project, the Athenry for Apple group marched to show both the government and the US corporation that many in the area supported the construction.
Local Fine Gael councilor Peter Feeney said: "The vast majority of people in the area are whole-heartedly behind this. When Apple announced its plans in February 2015, everyone felt, this is brilliant, this is exactly what Athenry needed, a shot in the arm to give it a lift – the biggest company in the world coming to a small town. That's a long time ago now and we have gone through a torturous process of planning.
"Hope has been in poor supply in this country and this gave us hope. We want the hope that we can have our children around us, as many as we can. This isn't going to be the cure-all but we have a great local industry in Athenry and across east Galway."
Sean Kyne, Minister of State for Gaeltacht Affairs, said: "We would be a laughing stock if this was lost at this stage – Galway would be and Ireland would be, nationally and internationally."
A small number of locals did, however, march against the project, with one holding the banner 'A Rotten Apple a Day Takes the Trees Away!'
Should the High Court fast-track the approval process, it could still take six months to decide. But the decision could also be delayed by up to 18 months.