Chinese IT giant Lenovo has opened a High Performance Computing (HPC) innovation center in Stuttgart, Germany. The facility aims to improve traditional supercomputing architectures, develop new ones and serve as an application benchmarking site.
A the same time, Lenovo has been granted membership of the European Technology Platform for High Performance Computing (ETP 4 HPC) - an industry-led forum that helps define priority research areas in cooperation with the European Commission.
"Today marks a milestone in our ambition as a company. Not only are we opening the company's first global HPC center but we are reaffirming our commitment, investment and ambitions in the enterprise," said Aymar de Lencquesaing, president of Lenovo EMEA.
"The EMEA market has huge potential for HPC and provides a fertile ground for us to lead major advancements in projects and research that have an incredible impact on both industry and society."
Lenovo also runs ARM-based HPC research projects in the UK.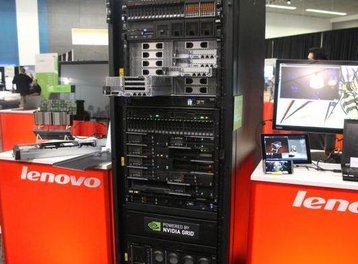 The Big Orange

The Stuttgart innovation center will serve as a collaboration space where Lenovo engineers can test the latest supercomputing technologies alongside their colleagues from affiliated organizations.
It was built in partnership with Intel - as a result, it will provide access to Lenovo's (formerly IBM's) dense NeXtScale systems containing the latest crop of Xeon CPUs. The rest of the HPC equipment will be contributed by industry partners like IBM, Mellanox and NVIDIA. Software partners include ScaleMP, Allinea and PathScale.
Lenovo hopes the innovation center will help bring the commercial benefits of HPC to a broader spectrum of clients, including small-to-medium businesses.
Initial projects will focus on things like Message Passing Interface (MPI) scaling on new platforms, energy-aware scheduling and workload optimization.
"Intel is excited with the deep technical collaboration with Lenovo in their new HPC Innovation Center", said Rajeeb Hazra, vice president of Data Center Group and general manager of the Technical Computing Group at Intel.
"In addition to giving end users early access to some of Intel's latest technology, such as future Intel Xeon Phi processors and Intel Omni-Path Fabric, the Center will be a key software enabling site focusing on MPI tuning and code modernisation for highly parallel applications."
In the CPU space, Lenovo is playing both sides – its ARM-based HPC research is taking place in the UK, at the National Science and Technology Facilities Council's Hartree Institute.
The company inherited this partnership when it took over IBM's x86 server business. Its current objective is to develop a prototype ARM-based server for NeXtScale using 64-bit ThunderX processors from Cavium.