Norway may become home to the world's largest data center, as an ambitious plan has been put forward by a company to build a massive facility in the Arctic Circle. 
US-Norwegian company Kolos has obtained part of the necessary funding for the project, which would see the construction of a 600,000 sq m (6.46m sq ft) data center in the city of Ballangen in Nordland county, 225km (140 miles) into the northernmost region of the world. 
Kolos is now in talks with US investment fund Headwaters MB to secure the remaining costs for the facility. 
Colossal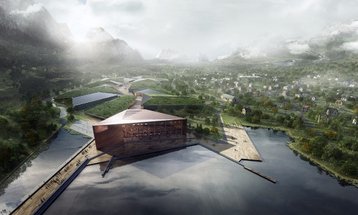 In its first instance, the four story facility would hold 70MW of IT equipment, eventually scaling up to offer 1,000MW within ten years of construction.
To give an idea of scale, wholesale colo giant Switch's Tahoe Reno campus - which it claims will be the largest data center complex in the world, and the first phase of which was completed in February - is expected to yield a 650MW capacity once all seven of its modules are operational. Facebook's  Luleå data center, in neighboring Sweden, has a 200MW capacity. 
Engineering and design company HDR is responsible for the structure of the Kolos facility, which it says will "integrate the community, surrounding natural beauty, sustainability, performance, security and scalability."
The facility, surrounded by water on three sides, will rely on the cold fjords to cool its servers at virtually no cost. It is also hoped that due to cold ambient temperatures and abundant available hydropower, encouraged by ongoing local and EU government dam construction projects, energy costs will be kept at a minimum. 
Mark Robinson, co-CEO of Kolos believes excess hydropower in the region will allow the company to scale up to two gigawatts of consumable renewable power.
The area is conveniently well connected due to high quantities of cable having been laid in the past. 
And as well as providing reliable and cheap energy infrastructure, the government of Norway offers taxation incentives for building and operating data centers in the country. 
For these reasons - cheap, abundant, renewable energy, low costs and low taxation, the Nordic countries have become a favorite for the construction of hyperscale data centers.
As well as its Swedish location, Facebook has plans to build a data center in Denmark, where Apple has an existing data center and plans for another. Google also has a massive data center in Finland, and could be building a data center in Denmark.
Finally, in May, Norway saw the launch of what could become Europe's biggest data center, built underground in a former olivine mine.