Juniper Networks appears to be betting the farm on open source and automation - two key elements of its new strategy, as testified by products unveiled to the press at its San Jose HQ last week.
Juniper says that latest forecasts show that almost 50bn connected devices belonging to roughly 7.6bn people will be operating by 2020.
Talking to DatacenterDynamics (DCD), Juniper's new CEO, Rami Rahim, a Juniper veteran of seventeen years said: "If I had to sum our strategy up in one word it would be automation. The fabric  of  the data center is a high-performance network. It's a massively scalable problem.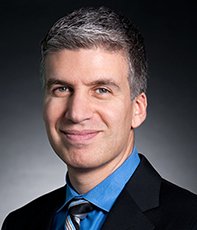 "You have to tie together all the north-south, east-west traffic with reliability, resilience, scalability and security. That epitomises the types of problems we love to solve - performances is always important but the bigger picture that will begin to solve the performance problem is automation."
Under new management
Rahim stressed scale and reliability, which he suggested are qualities sometimes overlooked when data centers attempt to improve performance over a period of time. "Trust me, there is still plenty of room for innovation to achieve great levels of scale and performance," he remarked.
"Doing something super fast is important but automation will be the key, we think, to making good on the early promises of Software Defined Networking (SDN) and Network Functions Virtualization (NFV). The key to the modern data center is taking the operational cost of the network down." 
Rahim replaced Shaygan Kheradpir at the helm of the company in November, following a review of conduct. He has also been appointed to the board of directors.
Rahim already had a packed agenda before taking the top job. The previous CEO had pushed ahead with a $100m cost reduction initiative, and was then removed when the figures still remained flat.
The major changes of the past few years
The QFX10000 open source switches, just announced by Juniper, are designed for telco and cloud service providers and build on its partnerships with the Open Compute Project, VMware and OpenStack. Interestingly even though Juniper is a member of the OCP, it chose to run its event at the same time as the organization's annual summit.
Jonathan Davidson, general manager of Juniper's development and innovation unit, said that the "seismic" and "fundamental shifts" that have happened in the data center over the last few years have made Juniper rethink the whole concept of networking.
Davidson said that the debut of Junos Fusion, a standards-based approach to data center infrastructure management, (DCIM) provided centralized control and a virtual buffer for top-of-rack switches. "This is fundamentally changing the basics of networking for both our enterprise customers and our service provider customers," he said.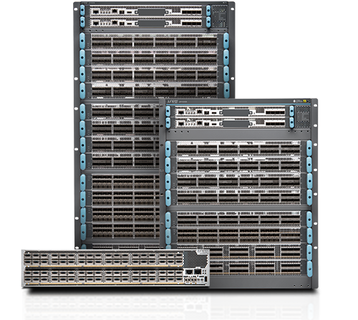 Juniper QFX
The new QFX10000 line is powered by a new Juniper ASIC called Q5, which offers telemetry for analytics and automation, and deep buffers.
The QFX10000 has three configurations. The QFX10002 is a fixed configuration 2RU switch that can be upgraded from 40GE to 100GE. It can support up to 24 100G interfaces, deliver 1bn to 2bn packets per second of switching capacity, and up to 5.76Tbps of throughput.
The QFX10008 is a modular, eight slot chassis that delivers up to 48 Gbps of total system capacity. It supports up to 240 100G ports and a switching capacity of up to 16bn packets per second.
The QFX10016 is a 16-slot chassis delivering system capacity of up to 96 Gbps. It supports up to 480 100G ports and a switching capacity of up to 32bn packets per second.
Leaf switches for the QFX 10000 series are the QFX5100, announced in October 2013.
The switches come with Juniper's new technology for data centers - Junos Fusion - which is designed to manage the data center network as a single system rather than individual network components, while providing automation of common routines. It is the automation which Rahim is most excited about and where he sees Juniper adding the most value to the data center in the near future.
Junos Fusion also has a feature called 'virtual buffers' which allows users to leverage existing Juniper switches as sources of buffer memory for investment protection. For automation and orchestration the new switches support Juniper's proprietary Junos Space Network Director (JSND), and industry tools such as Ansible, Chef, Puppet and OpenStack.
Junos Fusion uses the IEEE 802.1BR Bridge Port Extension standard for extending a bridge and its management beyond its physical enclosure into a single-tier architecture.
Architectures
Though Junos Fusion shares some elements of Juniper's present data center network architecture - QFabric - it is yet another stand-alone data center architecture from Juniper (there's also MetaFabric and Virtual Chassis Fabric) and one which QFabric is not compatible with.
The QFX3008 QFabric Interconnects cannot be managed by Junos Fusion and the new QFX10000 cannot be managed by QFabric's Director, the older architecture's controller.
With QFX10000 operating as the data center spine, QFX5100 as the leaf and Junos Fusion as the fabric manager, it looks as if Juniper is working hard to apply open standards to its gear. The long-term aim must be to replace QFabric, which apparently has scalability issues. Juniper denies that there is a plan to phase it out and it is certainly not an issue at the moment.  
Juniper also beefed up its physical and virtual SRX firewalls with the launch of Express Path, a services offload capability for the SRX5000 Series Services Gateways to boost throughput, reduce latency and improve session scalability.