After 23 years at the helm, John Chambers is set to leave Cisco - which he helped shape into one of the world's most powerful technology companies. He will not stand for re-election as the executive chairman, a post he has held since November 2006.
Following a lengthy succession process, Chambers retired as the CEO in 2015 to be replaced by another Cisco 'lifer' Chuck Robbins, who will now also take over the chairman role.
The change comes during a time of major shifts within Cisco and the wider networking industry: the company is currently attempting to reposition itself as a software vendor, to match the trend away from proprietary hardware and towards software-defined networking (SDN) and network function virtualization (NFV).
End of an era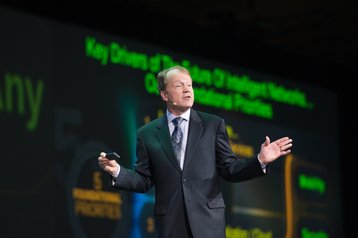 Chambers, now aged 68, is a legend of the tech boom, repeatedly named one of the best-performing CEOs in the world. When he became the chief executive of Cisco in 1995, the company was responsible for approximately $1.2 billion in annual revenue. When he left in 2015, annual revenue reached $49.2 billion.
Under his leadership, between 2000 and 2002 Cisco passed Microsoft several times to briefly become the world's most valuable company - the honor which today belongs to Apple.
Chambers currently owns more than a million Cisco shares worth approximately $37 million.
His replacement Robbins has spent 19 years at Cisco and has not shied away from making tough decisions to keep the company going. In 2016, he launched a restructuring plan which reduced Cisco's global workforce by up to 5,500 employees - or seven percent of the total. Earlier this year, another 1,100 jobs were cut. At the same time, the company has acquired a number of promising software start-ups, like Springpath and Viptela.
Fun fact: aged nine, Chambers was diagnosed with dyslexia - a condition that did not prevent him from running a world-spanning business empire.