European carrier and cloud-neutral colocation provider Interxion has revealed that its upcoming data center in Stockholm will become one of the first to harness the benefits of Stockholm Data Parks.
The Stockholm Data Parks initiative was officially launched in January, supported by the government of the city and several local utility companies. It aims to offer power, connectivity and cooling services to potential data center builders, with four parcels of land earmarked for development.
Open invitation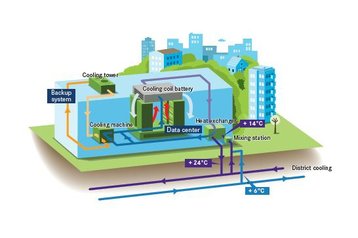 Interxion operates more than 40 data centers across 11 countries. Even though the company describes itself as exclusively European, the majority of its customers are American businesses that are looking to establish a 'beachhead' on the continent.
Interxion's new facility in the Kista district on the outskirts of Stockholm is its fifth in Sweden. It will offer 2,200 square meters (23680 sq ft) of technical space once fully operational, with power capacity of up to 3.5MW.
The data center will arrive in three phases, the first - consisting of 600 square meters (6,458 sq ft) and 1MW - will become available in the third quarter of 2017. It will benefit from direct proximity to Interxion's four existing data centers in Akalla, in Northern Stockholm.
Just like the rest of Interxion's fleet, the data center in Kista will be powered by 100 percent renewable energy and export its waste heat. As one of the long-term objectives, Stockholm aims to supply 10 percent of the city's residential heating demand through recovered excess heat from data centers.
"Interxion has seen an increased demand from international customers for data center services in Stockholm," said Peder Bank, managing director of Interxion Nordics.
"Our customers wish to benefit from a data center with dense connectivity across the Nordics, and access to the European and the Russian markets. We can also see a need from local companies and system integrators to be present at a campus where they can benefit from direct interconnections to the hyperscale cloud platforms."
The Stockholm Data Parks initiative was launched in cooperation with infrastructure companies Fortum Värme, Ellevio and Stokab. The first site will enable data center operators to sell their waste heat to the grid and buy cooling as a service. In the next three years, the scheme will be expanded to another three locations – Brista, Skarpnäck and Väsby.