European colocation and networking giant Interxion has opened its third data center in London, located on the existing campus near Brick Lane in Shoreditch.
The facility codenamed 'LON3' offers 1,800 square meters (19,375 sq ft) of white space and 3MW of power capacity, and gives customers a choice of more than 100 carriers and eight major CDNs.
The project has been welcomed by the representatives of the local government, including London's Chief Digital Officer, Theo Blackwell.
"What everybody is looking for today is response time and consistency," Interxion CEO David Ruberg told DCD during the launch event at London City Hall. "So where are the eyeballs? They are right here. Where is the money? Well, the eyeballs are connected to the wallet."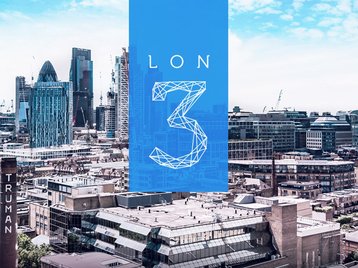 Location matters
Interxion operates more than 45 data centers across 11 countries. Even though the company describes itself as exclusively European, the majority of its customers are American businesses that are looking to establish a 'beachhead' on the continent.
Its campus in London is unusual since it offers colocation space in the center of the city, where property prices are at a considerable premium.
Interxion announced the expansion of the site in the beginning of 2017, planning to invest £30 million. Due to its location, the new data center is aimed primarily at businesses in the financial sector, advertising and media industries.
"These data centers are being built where customers are," Ruberg said. "You need to go to a place where you have the maximum opportunity for direct access to your customers, with the consistency and response time that these people are accustomed to. That's all right here."
London is the third largest data center market in the world - according to CBRE, it had 438MW of colocation capacity at the end of 2017. The city serves as a gateway to Europe, and benefits from a large number of trans-Atlantic submarine cables that land in the UK.
"Data centers underpin an Internet economy that contributes over 10 percent of UK's GDP, adds £225 billion to our economy and is growing faster than any other in the G-20," said Emma Fryer, data center lead at the digital technology trade association TechUK.
"London is a major global financial and business center and the data center sector has benefited from the presence of demanding customers, which led to a coevolution in technical and operational capabilities.
"London also has world class connectivity and it is still hard to find anywhere else with its market reach in terms of speed and bandwidth.
"The way I describe it is that London is to data centers what Marks & Spencer is to knickers: we do all colors in all sizes."