Intel has launched the next generation of Xeon processors, offering 1.65 times more performance than chips based on Broadwell architecture and introducing a variety of new features aimed at data center operators.
According to Intel, Xeon Scalable Processors (Xeon SP) were primarily designed for cloud computing and emerging applications like machine learning and delivery of 5G communications.
The processor family is the first to replace the tried and tested ring architecture with a mesh that adds more interconnects between cores. It also supports a larger number of cores on the same die – up to 28, whereas Broadwell would max out at 22.
Another major change is the fact that all of the new SKUs will get a badge corresponding to their relative level of performance – from Bronze for low-power, non-critical applications to Platinum for the most demanding tasks.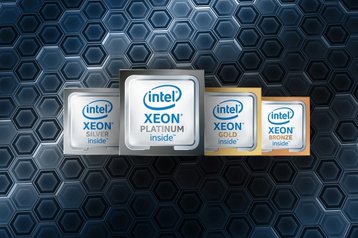 Xeon SPecial
Intel is responsible for roughly 98 percent of server processor shipments, making it a monopoly in everything but the name.
However, in the last two years the company has been facing increased competition from AMD and a number of smaller chip vendors that base their designs on cores from ARM.
Xeon SP is intended to secure Intel's dominance, offering customers more performance, but also more flexibility. For example, the new chips include Intel Quick Assist Technology – a dedicated encryption circuit previously available as an optional extra – as standard.
They also offer new memory controllers supporting up to 1.5TB of RAM across six channels, and eight more PCIe lanes, useful for GPUs (that are widely deployed for machine learning) and NVMe solid-state drives.
With Xeon SP, Intel's partners will be able to build denser, more powerful servers – not only due to individual chip performance, but also because they can now squeeze eight sockets onto a single motherboard, without the need for additional node controllers.
Intel estimates that the new processors will enable data center operators to host 4.2 times more Virtual Machines than if they were using systems purchased four years ago.
Meanwhile, the Platinum versions of Xeon SP promise more FLOPS for high performance computing environments, thanks to the introduction of Intel Advanced Vector Extensions 512 (AVX-512) which boost the speed of computationally intensive tasks, and integrated ports for OmniPath – a high-speed interconnect used in supercomputers.
The official launch follows Intel's largest ever data center early ship program, with more than 500,000 chips already in the hands of customers.
For more information about Intel's Xeon SP and its competitors, look out for our Battle of the Chips feature in the August / September issue of the DCD Magazine.