Indian renewable energy firm Renew Power has signed a Memorandum of Understanding (MoU) with RackBank Datacenters to power a forthcoming hyperscale data center campus in Chennai.
Under the MoU, Renew will construct, co-own, and operate a hybrid power generation facility specifically to supply power to RackBank's data center, and the two companies will sign Power Purchase Agreements (PPAs).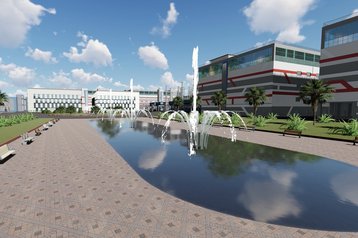 RackBank currently operates a 35,000 sq ft (3,200 sqm), 5MW facility in Indore. But the company says it is developing a massive 4.35 million sq ft (404,686 sqm) campus in Sriperumbudur, Chennai. The company claims the GigaCampus ONE will offer 2.96 million sq ft (275,425 sqm) of colocation space and have up to 500MW of capacity.
The first phase of development will reportedly be 180MW, with construction due to begin in late 2021. The company saying it has further plans in Mumbai, Hyderabad, Delhi, and Pune.
"The MoU between ReNew Green Solutions and RackBank reflects the commitment that responsible corporates are showing to shift towards cleaner energy sources to power their businesses," said Sumant Sinha, Founder, Chairman, and CEO of ReNew Power. "We congratulate RackBank for embarking on this journey and look forward to our partnership for this potential 500MW opportunity."
Renew develops, builds, owns and operates utility-scale wind energy projects, utility-scale solar energy projects, utility-scale firm power projects, and distributed solar energy projects and has a total capacity of approximately 10GW of wind and solar energy projects across India.
The project will be carried out and managed by Renew Green Solutions, Renew Power's business-to-business arm.
"This initiative is one of the major check posts for RackBank's vision of a sustainable future, along with the several other green initiatives previously taken by our company," added Narendra Sen, CEO of RackBank Datacenters. "[The] RackBank Hyperscale platform will enable 100 percent clean energy for our data center and through this partnership, we should be able to reduce our power cost by 30 percent compared to power consumption directly from the grid."
This week also saw RackBank partnering with Nortek Data Center Cooling to use the HVAC equipment manufacturer's StatePoint liquid cooling technology in its data centers.
"Nortek has recently worked with a prominent social media hyperscaler and its StatePoint yielded better results than any other cooling technology," added Sen. "StatePoint technology capabilities will not only help us attain our sustainability goals, but also conserve water, which is a scarce resource in India."