A new supercomputer has been installed at the Indian Institute of Science (IISc) in Bengaluru, India.
Named Param Pravega, a Marathi name that translates in English to 'Ultimate Acceleration', the system has a total supercomputing capacity of 3.3 petaflops and will be able to power a wide variety of compute-intensive research and educational projects, along with the Institute's other supercomputer, SahasraT.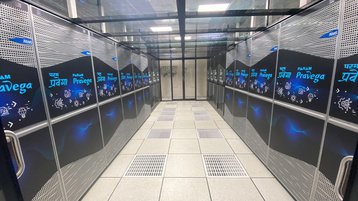 A majority of the supercomputer's components were sourced, manufactured, and assembled in India as part of the Make it India initiative, and were designed by the Centre for Development of Advanced Computing (C-DAC).
The 3.3 petaflops-system uses Intel Xeon Cascade Lake CPUs and Nvidia Tesla V100 GPUs in an Atos BullSequana XH2000 series system.
Param Pravega was commissioned under the National Supercomputing Mission, an organization looking to develop a vast supercomputing grid in the country at an estimated cost of over US $600 million. Param Pravega marks the Mission's 10th deployment.
Installed in 2015, IISc's other HPC system SahasraT has a peak processing capacity of 1.46 petaflops and will work with Param Pravega on research into infectious diseases, as well as researching green energy technologies, and using computational fluid dynamics to look at hypersonic flight vehicles.