Anxious to tap into the cloud data center market, IBM has unveiled a pair of new, thinner mainframe systems that take as much space as a standard 19-inch server rack.
The IBM z14 Model ZR1 and IBM LinuxONE Rockhopper II introduce a 'single-frame' design that takes 40 percent less space, enabling them to be fitted into a standard server arrangement and to use power and cooling equipment designed for server cabinets.
The former is a traditional mainframe with all the features expected from z Systems family - which can trace its lineage back to System/360, announced in 1964 - while the latter is part of a new generation of mainframes designed to run Linux.
Both machines will be deployed in IBM's own cloud data centers.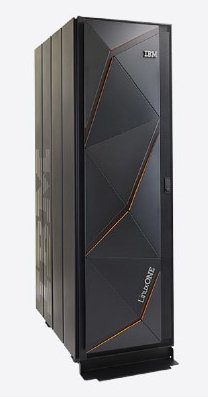 Tall and skinny

Mainframes are more powerful, more resilient and much more expensive than typical servers, so historically, they have been used for specific use cases in industries like retail and finance. However, as virtualization blurred the boundaries between different types of hardware, these machines have found new applications.
Ross Mauri, general manager for IBM Z business, highlighted the security credentials of the latest mainframes in a blog post and said he hoped the newcomers would bring the power of the IBM Z family to an even broader audience.
"Capable of processing over 850 million fully encrypted transactions a day on a single system, the new mainframes do not require special space, cooling or energy, but still provide groundbreaking IBM pervasive encryption and Secure Service Container technology for secure data serving at massive scale," Mauri said.
"The new IBM Z and IBM LinuxONE offerings also bring significant increases in capacity, performance, memory and cache across nearly all aspects of the system."
With z14 ZR1 in particular, storage, networking and other elements can be placed in the same frame as the mainframe itself, enabling the chassis to server as a 'data center in a box'.