IBM US appears to be using a scythe rather than an axe to cut staffing in its annual human resource harvest. Unofficial reports claimed that up to a third of the workforce is being "rebalanced".
A spokesperson for IBM has been quoted as saying that rumours of layoffs affecting so many of the US staff are untrue, adding that the company "currently has more than 25,000 open positions". The spokesperson explained that the cuts were aimed at "transforming its business to lead in a new era of cognitive and cloud computing".
Every year, Big Blue tries to slim down its workforce to avoid bloat and to redeploy staff into areas that match IBM's business development plans. The process involves making job roles redundant and allowing the dismissed workers to reapply for open jobs elsewhere in the organisation.
This year is proving to be more acrimonious because of rule changes governing severance. According to Watching IBM, an independent Facebook page for IBM employees past and present, the old policy of offering up to six months' severance pay has now been reduced to a flat rate of one month. This only applies when a position is eliminated or where an employee is underperforming. The new policy has led anonymous contributors to Watching IBM to accuse the company of manipulating performance reviews where axing a post is not feasible.
The axeman cometh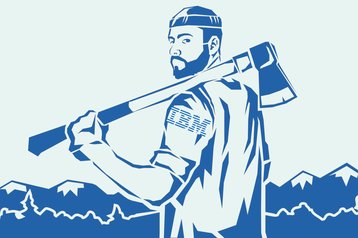 One notice-served employee wrote: "After 41 plus years I got the call today. How many more ways can they take from hard working IBM'rs? I was ready to go last year when they had the [former] severance package. Why didn't they do it then? We have been living and working with this 'writing on the wall' for years. What stings the most is the severance cut."
This touches on another grievance that is emerging and accusations of age discrimination.
Another writer stated: "I got word that after 34 years, I am gone. One thing that concerned me was my manager saying 'we tried to target people who are retirement-eligible'. Looks like the package has an agreement we have to sign 'Arbitration Procedure and Collective Action Waiver'.
"I have never gotten a 3 [IBM runs a 1-3 point assessment rating] and last year was just below a 2+ in the rankings. Obviously my selection did not have to do with my performance but rather my age.Thankfully I am mostly prepared.
"One option is to find another job of those '25,000 openings'. Given this treatment, I really no longer wish to work for this company."
An indication of the actual number of job losses will be revealed in time but will be masked because IBM does not single out the US figures from global numbers. The spokesperson said that a "significant number" of the jobs were in the US but disgruntled employees on notice of redundancy believe that many of the lost posts have occurred due to globalisation of the workforce.