Dalian Wanda, the Chinese property giant, has teamed up with IBM to sell cloud services in China. 
The joint venture, to be called Wanda Cloud Company, will sell IBM's BlueMix cloud infrastructure and platform as a service (IaaS and PaaS) offerings.delivering them from a string of new data centers, to be built and operated by the new partnership.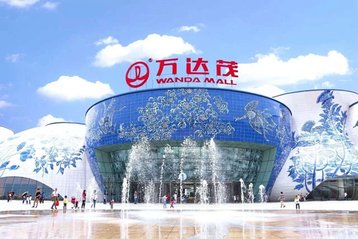 Blue clouds over China
Wanda is a property group best known for the Wanda Plazas, residential/commercial developments which have been built in 90 major city locations in China. Wanda also owns the AMC Theatres chain of cinemas in the US, and Wanda's ambitious CEO Wang Jianlin has said the two "Wanda City" theme parks, will undercut Disney's fledgling Chinese theme parks, making their operations unprofitable.  
Wanda had already stepped into the data center world, creating its own building management system (BMS) called Huiyun, which manages Wanda Plaza facilities. The system was described by Wanda's CTO Feng Zhongqian (Jennifer Feng) at the DCD Hyperscale China Beijing event in December 2016.
US players generally have to take partners to operate within China. In February, SAP teamed up with local tech giant Lenovo to build an SAP cloud in China.
Indeed, Wanda isn't IBM's first partner in China: the company signed up 21Vianet to support Bluemix back in 2015, and this deal will continue, DCD understands.  IBM also signed an agreement with Internet company Tencent Cloud in 2014.
Microsoft also has a partnership with 21Vianet to deliver Azure cloud services in China. 
In the colocation space, Equinix has a partnership with Datang Telecom. And two years ago, Dell announced a plan which included a partnership with local service provider Kingsoft.