IBM Cloud has signed a deal with Indosat Ooredoo, Indonesia's largest teleco, to develop a command center that will serve clients of both companies. IBM said the contract was worth $200million and Indosat's subsidiary Lintasarta will help IBM to build the datacenter.
The new facilities are being created to offer Indonesian businesses easier access to cloud-based products and services. This will help clients of IBM and Indosat Ooredoo to streamline processes and improve productivity.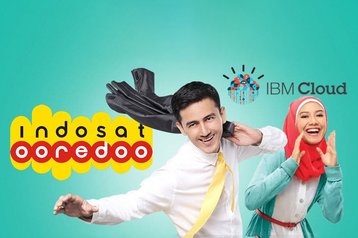 Cloud for growth
Customers will also be offered access to new jointly-developed products built on IBM's Bluemix cloud development platform to accelerate collaboration and infrastructure changes, while facilitating the automation of software delivery. Access will also be given to MaaS360, IBM's cloud-based enterprise mobility management platform.
Martin Jetter, senior vice president for IBM Global Technology Services, said, "Indonesia has one of the world's most rapidly growing economies, and the use of smart mobile devices is becoming pervasive, opening up enormous opportunities for local businesses. We are excited to be working with Indosat Ooredoo and Lintasarta to help clients tap into the power and flexibility of cloud-based solutions and digitally transform their businesses."
IBM also announced a related five-year technology services agreement to upgrade Indosat Ooredoo's digital and operational equipment to lay the foundations for this refresh of current services by making them easier to access, less complex, and more affordable.
Alexander Rusli, president and CEO of Indosat Ooredoo, commented, "This landmark alliance will reshape the local market and help Indonesian customers and organizations tap into the most advanced technology available anywhere in the world."