IBM has launched its Bluemix cloud computing in China hosting the service in the carrier-neutral data centers of 21Vianet.
IBM will provide the Bluemix cloud, while 21Vianet will be responsible for the infrastructure and the end-to-end operation of Bluemix in China. The deal is interesting as IBM has been forced to go with a partner because it has no SoftLayer data centers in China. for similar reasons, Microsoft has also put its competing Azure cloud into 21Vianet's facilities,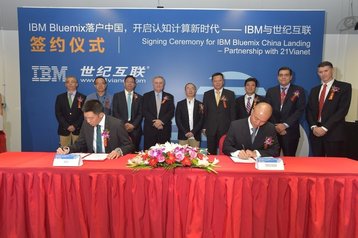 China blue 
IBM's Bluemix is a cloud service based on Pivotal's Cloud Foundry. Launched in 2014 with a $1 billion investment, it is now the world's biggest Cloud Foundry deployment, says IBM, with more than 120 tools and services for areas such as big data, mobile, integration, DevOps, security and the Internet of Things.
"Cloud computing is the cornerstone for helping organizations drive innovation and entrepreneurship in China," said Robert LeBlanc, senior vice president, IBM Cloud. "The collaboration with 21Vianet Group builds on the growing global adoption of Bluemix.",
IBM has had a previous relationship with 21Vianet to deliver cloud managed services, and this takes it to enterprise cloud computing, said Josh Chen, CEO of 21Vianet: "Today's news is the extension of IBM's collaboration with 21Vianet in 2014 on Cloud Managed Services. 21Vianet will now also work with IBM to promote the development of enterprise cloud computing in China."
IBM has been expanding its own SoftLayer data centers rond the world, and 21Vianet has also been growing, and announced in June that it would build a facility in Santa Clara with Server Farm Realty.