Hyosung Heavy Industries and ST Telemedia Global Data Centres (STT GDC) have announced a joint venture to establish data centers in Seoul, South Korea.
Singaporean data center service company STT GDC and manufacturing and construction company Hyosung Heavy Industries will enter a 60:40 basis in the former's favor to jointly develop and operate a carrier-neutral data center campus in South Korea.
The companies did not reveal specifications, but say the new high-capacity data centers will be "built to the highest quality standards" and capable of serving both hyperscale and retail colocation customer requirements. The JV is in the final stages of securing a land site in the Greater Seoul area.
"South Korea ranks among the world's most digitally competitive economies and we are delighted to be partnering Hyosung Heavy Industries as we expand into South Korea, growing our presence in Asia to five markets," said Bruno Lopez, President and Group CEO, ST Telemedia Global Data Centres.
"Hyosung Heavy Industries has strong local capabilities in power, industrial systems and construction technology. Leveraging our global track record in designing, constructing and operating state-of-the-art, carrier-neutral data centers, we are well poised to support the increasing demands from our customers and businesses in the country and region, brought about by the rising adoption and consumption of cloud and digital services globally."
STT moves into South Korea, Hyosung expands technology footprint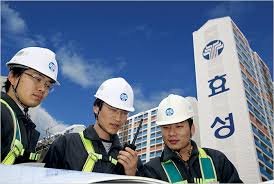 The new venture will be STT GDC's first data center investment in South Korea. The firm currently has facilities in Singapore, China, India, Thailand, and the UK. While the JV is Hyosung Heavy Industries' first data center-related investment, its parent company Hyosung Corporation owns a number of information and communications companies including Hyosung ITX and Hyosung Information Systems.
"Hyosung Heavy Industries has been focused and reputed for decades in providing power, industrial systems and construction technology in various residential, commercial and industrial facilities," said Takeshi Yokota, Representative Director of Hyosung Heavy Industries.
"We have observed the data center industry in South Korea to be fast-growing on the back of increasing demand for digital solutions and services. With our long-standing expertise and leveraging STT GDC's operational data center excellence, we are excited to extend our capabilities and venture into building green data centers to support the surging demands of IT infrastructure sustainably."