Huawei has signed with data center provider Global Switch and data center builder Colt Data Centre Services (DCS) to deliver modular and webscale data centers worldwide. 
Global Switch will use Huawei equipment to make the operation and and maintenance (O&M) of its colocation facilities more efficient, and Colt DCS will use Huawei gear to go after contracts with hyper-scale cloud service providers, Huawei said when the deals were announced at the CeBIT fair in Germany.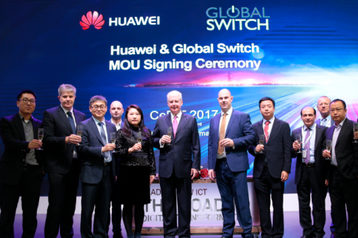 Switch on
The Huawei partnership comes only a few months Global Switch gained entry to the Chinese market, when a Chinese consortium bought 49 percent of the company. The investment was led by Li Qiang, a major shareholder in Chinese data center company Daily-Tech, and Global Switch is now building a data center in Shanghai as a joint venture with Daily-Tech. A major investor in the consortium is the Jiangsu Sha Steel Group, the largest private steelmaker in China.
Colt, meanwhile has an expanding stable of data centers, and experience in modular builds - around 2010 it supplied its own brand of modular data centers. It currently uses FNT software for data center infrastructure management (DCIM) 
Huawei says it hopes Global Switch will make use of its modular technology, including iPower, iCooling, and iManager.
Few details have been published about the partnerships. "The data center plays a key role in digital transformation for enterprises," said Leon He, president of West Europe enterprise at Huawei. "We can see this from the steady increase in the global market for data centers."