HPE has announced a number of updates to its flash storage portfolio, including new all-flash and hybrid arrays and new data protection features.
The company has unveiled the 3PAR StoreServ 9450 all-flash array, capable of scaling to 6,000TB of raw capacity, and the fifth generation of budget-friendly MSA storage.
Hyperconverged servers from Nimble Storage – which HPE acquired earlier this year – are now part of the company's product range, and Nimble has added new secondary flash arrays to its roster.
HPE claims these additions enable it to offer the broadest storage portfolio in the industry.
Flash domination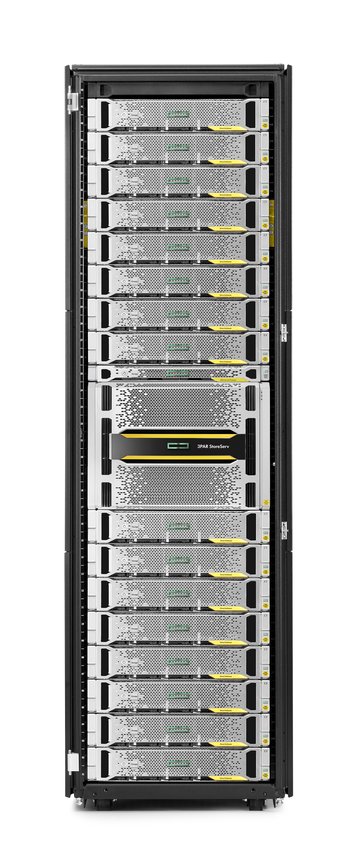 According to research by TechTarget quoted by HPE, 51 percent of enterprise IT departments are expecting to run all-flash data centers within five years.
"As flash permeates the datacenter it has become critical to move beyond the array – from predictive analytics to data protection to investment strategies," said Bill Philbin, SVP of Data Center Infrastructure Group at HPE. "These new solutions help more customers maximize the value of flash on-premises and enable flexible off-premises data mobility."
According to HPE, the new 3PAR StoreServ 9450 offers 70 percent more storage performance when compared with the company's previous generation 3PAR 8450. It also doubles maximum capacity and features three times more networking ports.
Meanwhile the new MSA arrays, starting with MSA 2050 and 2052, offer a low-cost entry into fiber channel systems. These SAN boxes can accommodate any mix of SSDs and traditional SAS drives, and support snapshots and remote replication out of the box. HPE says the new hardware is two times faster than the previous generation MSA systems, with the prices starting at under $10,000.
In terms of software updates, HPE has announced StoreOnce CloudBank, a long-term object storage solution that can tap into multiple public clouds to minimize the cost of backup and disaster recovery.
Another addition is the Express Restore feature for HPE's Recovery Manager Central (RMC), which the company claims enables 15x faster data recovery from on-premise or off-premise StoreOnce repositories.
The final announcement is the integration of Nimble Storage into the HPE product range: Nimble's existing arrays are now orderable from HPE, and the newly-minted subsidiary is already launching a new product: the Secondary Flash Array (SFA). These systems brings together always-on deduplication and compression to lower capacity costs for backup, with flash-optimized performance and zero-copy cloning.
The new Nimble arrays are available immediately, while the rest of the hardware will become available in June 2017. RMC improvements will be included with 3PAR software free of charge in September 2017, but there's currently no definite launch date for StoreOnce CloudBank.